In August 2014, Skeleton Technologies hired Indrek Kaldoja as Chief Financial Officer and has reaped the rewards ever since. For nearly three years, Indrek has led the Skeleton financial team and had a big impact on the company's successful rise to the top of the ultracapacitor industry. With Indrek at the helm, Skeleton Technologies has raised €41,7 million in funding, with the €15 million European Investment Bank quasi-equity financing earlier this year as the crowning jewel of Indrek's time as CFO.
The financial department at Skeleton has always carried a special importance for the company. Highly technical industries, such as ultracapacitor development and manufacturing, require large amounts of investment in R&D and setting up production. The rapid growth Skeleton has experienced since its founding in 2009 has always called for heavy scrutiny on the financial side of the business, and the company has been very fortunate to have had Indrek's expertise at its disposal.
Since 1st of April, Indrek has moved on to the position of Senior Advisor and the CFO's position at Skeleton Technologies has officially been held by André Korn.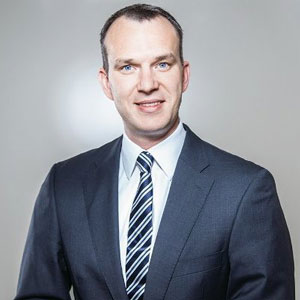 André's CV makes for an impressive read: five years at Infineon Technologies in the semiconductor industry; seven years at McKinsey & Company in high tech industry corporate finance and mergers and acquisitions; two years at GlobalFoundries, again in the semiconductor industry; and finally, before taking up the challenge at Skeleton Technologies, André worked for two years as CFO at EnergyNest, working with grid scale thermal energy storage.
We sat down with André to discuss his new position and his views on the future of the energy storage industry.
André, your past employers boast combined yearly revenues way past the €10 billion mark, so what attracted you to Skeleton Technologies, a company just beginning to make its mark on the energy storage industry?
It was a combination of personal and professional ambitions matched with the right timing. After many discussions with the company management, I was convinced of Skeleton's huge potential in the energy storage industry. We have a product with a large number of possible applications, and more importantly, a clear market need. Skeleton's ultracapacitors, modules, and systems are superior to anything on the market, and have a protected advantage, which enables exciting growth plans. In addition, the recent factory opening close to Dresden is a big plus personally, because it enables me to live in my home town.
How did you get into finance in the first place?
I have a Master's degree in Finance and Computer Science from Dresden University of Technology, and I have always enjoyed topics dealing with numbers and quantitative analytics. Finance and analytics can be critically important enablers for a business to grow, carry out its objectives, and flourish.
What kind of impact can you make at Skeleton Technologies?
In any start-up, the role of the CFO is to help with funding. My job includes talking to potential investors, to communicate the economics and the financial model of the company, and give them a reason to invest in the company.
Secondly, the company is growing at a very rapid speed, which is a challenge for me and the financial team. It requires for me to continue the work my predecessor started and set up the processes for the finance team to handle their work efficiently, and to build and oversee a high-performing team that works together seamlessly.
Thirdly, the finance team helps the company grow by providing for example business case calculations, insights into product profitability, and finding cost improvement opportunities.
What would you say motivates you the most?
Achieving results by working hard motivates me. Sometimes you are lucky and achieve something, but that isn't as rewarding as when you work hard, achieve great results, and can be proud of your team and yourself.
Any past achievements that you are particularly proud of?
There are many. As an example, I was part of a start-up team for a spin-off of Infineon. I was employee number five. Our task was to set up a factory and produce critical components for semiconductor manufacturing. We started from nothing – we were basically standing on an empty field at the start, and with that small team, we set up a business plan, organized financing, built a factory, and ran production. After three years that start-up had grown from a project team of five people to an organization of 160 people, and from €0 revenue to €60m revenue per year.
What's been the most challenging thing about your first couple of weeks at Skeleton Technologies?
The most challenging thing has been the speed at which the company is moving forward on multiple fronts and how that relates to the finance team. It's impressive to see what has been achieved in terms of funding from the EU, the State of Saxony, private banks and VC firms. In the current stage of the company it's now important to enhance some of the finance processes and tools to set the stage for enabling the future growth of Skeleton.
Where do you think Skeleton will have the biggest impact globally?
Skeleton is working in many industries, but I'll highlight two of them. Firstly, being from Germany, I see how big the effort is to transform the automotive industry from fossil fuels to hybrid and electric power. Our ultracapacitors can have an enormous impact on this transition.
Secondly, one of the drawbacks of renewable energy is that often the production methods are not cost-competitive against fossil fuels. Large regulatory or subsidy support decrease the valuation and reputation of the renewables industry. Renewable energy production growth and acceptance would be much higher if it could be made more profitable, and this is where Skeleton can have a significant impact on the market. Energy storage technologies are needed to make renewable energy production more profitable, and to meet climate regulations. Fast energy storage and short-term frequency response are our strong suit and can solve many issues for renewable energy.