How the future of e-mobility today and "made in Germany" is already being set in motion by concrete applications and innovative energy storage technologies
The "eMonday" event in Munich, a meeting of experts of Germany's leading network for mobility 4.0, was all about innovation spurts for the environmentally friendly electric drive and what global players based in Germany are doing for it. A core topic of discussion, as all the presentations showed, and a prerequisite for the large, worldwide electro-push are high-performance energy storage solutions for all sectors of mobility, from cars, buses, and trucks to construction machinery and heavy-duty systems such as cranes. One of the conclusions of the experts from industry, technology, and science: For the future of electricians, trend-setting signals are also coming from German companies, which already today rely on power-based commercial vehicles and machines as well as ultracaps for energy storage and recovery in seconds.
"There is a lot going on in industry as well as applications and even more when international companies such as MAN, Iveco, Wacker-Neuson or Flixbus not only focus on a traditional portfolio but also take a new approach with emission-free products." Explains Michael Liedtke, SVP of Skeleton Technologies. "Modernization can also mean less expensive retrofitting: Our carbon-based high-performance capacitor technology also relies on retrofitting and hybrid solutions that are already in use today".
Skeleton Technologies, which last year opened Europe's largest ultracaps factory in Großröhrsdorf near Dresden, demonstrating that automated production technology can be used to produce and develop raw materials and future technologies from Germany, presented the potential of the innovative energy storage system for hybrid solutions in combination with existing diesel drives or lithium-ion batteries at eMonday. Skeleton's KERS system (Kinetic Energy Recovering System) already enables fuel consumption and CO2 emissions for buses or trucks with existing diesel engines to be reduced by up to 32%, proven by the French logistics company Adgero.
In a pilot project with a Muuga crane in the port of Tallinn, savings are also around one third. The energy released when a load is lowered is stored in ultracapacitors and can be used again when the load is lifted. Of course, such hybrid systems are not the panacea in times of the diesel gate, but should at least be considered by companies and OEMs. Especially for medium-sized companies, this offers the opportunity of retrofitting while at the same time a complete renewal of their own vehicle fleet can be dispensed with.
The topic of range in Electromobility and thus the question of storage capacity also played a decisive role in the MAN and FLIXBUS presentations. To the surprise of many experts in the audience, MAN found through field tests at logistic companies that 75% of the large diesel trucks drive less than 170 km a day and are therefore below the 200 km range which is already possible using current battery technology. "Electrification is therefore already globally possible and feasible," says Alexander Adler of MAN Truck & Bus AG.
Interesting in this context is also the result of an end-consumer company such as Flixbus, Germany's flagship company, which revolutionized bus transport in just five years and has today become the international top player in the industry. Flixbus recently started piloting electric buses on a route in France and recently between Mannheim and Frankfurt.
Markus Haug, Director Business Development DACH & E-Busse at Flixbus, explained: "The most important criteria for companies like Flixbus and for the use of E-buses is the economic efficiency and this is only given as long as the loading times of the buses can be done during the break of the driver. At the same time, our electric bus is sending out a strong signal that green mobility is already possible in commercial traffic."
The example of Flixbus shows that it is extremely important for bus companies that the infrastructure for efficient charging stations is available and guaranteed at motorway service stations. The possibility of rapid battery replacement through replaceable module technology at the recharging stations is also conceivable, but still a dream of the future.
A German global player with environmentally friendly electric machines is also making a name for itself in the still very traditional construction machinery industry: Oliver Kolmar from Munich-based manufacturer Wacker-Neuson presented the zero-emissions machine series. Modern electric engines are gaining ground, especially with smaller vibratory dampers, vibrators and plate compressors, which were previously equipped with gasoline-driven two-stroke or four-stroke guarantees and in which the operator always has to work in the exhaust fumes. However, the still too high weight of the batteries is slowing down their rapid spread.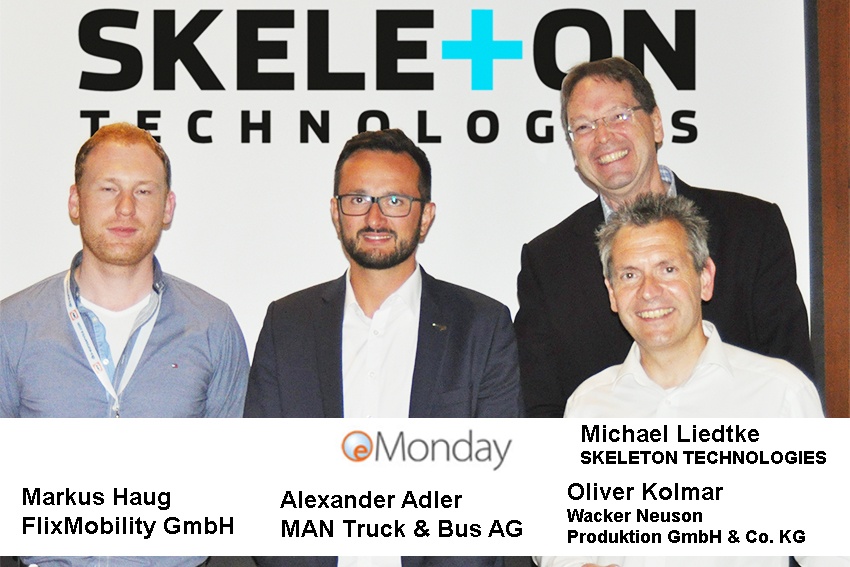 A unique study by the German Fraunhofer Institute, Adrian Heuer, Senior Scientist for battery storage at Fraunhofer ISE, has recently examined how important a uniform, moderate temperature is for battery performance. Here, too, it is evident that the largely temperature-insensitive ultracapacitors are superior to battery technology and are ideally suited for use in arctic and tropical hot regions.