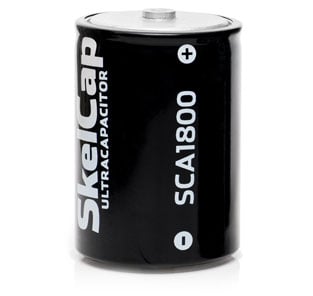 The SkelCap industrial cell series brings the benefits of our advanced curved graphene material and patented production technology to a form factor most commonly found in industry. Industry leading performance for mass market applications to give you the upper hand over competition.
Our SkelCap line has a much higher energy density and power density than other manufacturers. The SkelCap series was launched in 2012 and has gained considerable interest in the motorsport, automotive and aerospace sectors, among others. All our ultracapacitors are manufactured in the EU.
The SkelCap industrial cells are available at 2,85 V from 500 to 3200 Farad cells, with a very low ESR. They have highest performance on the ultracapacitor market with specific power up to 110 kW/kg and specific energy up to 6,8 Wh/kg.
---
You can estimate the amount and type of cells needed for your application by downloading our calculator.
THE CALCULATOR IS FOR APPROXIMATE ESTIMATIONS ONLY. FOR ACCURATE CELL AND MODULE SIZING, PLEASE CONTACT SKELETON TECHNOLOGIES.
Request more information