Almost all power profiles are dynamic - in addition to the base power, a short period of peak power has to be covered. Ultracapacitors are the ideal method to fill the gap between base and peak loads.
CASE: 1 MW VARIABLE-SPEED DIESEL GENERATOR
Base load: 300 kW
Peak load: 1 000 kW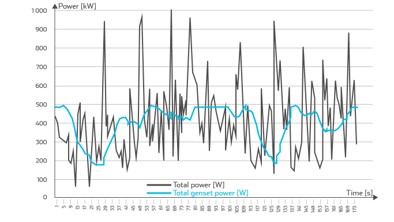 Generators typically have poor step response, which results in:
Additional generators running in reserve with a light load. Running a 1 MW generator lightly loaded to cover the base load is very inefficient.
High running hours and maintenance costs.
In addition, non-optimal operating area for generators increases fuel consumption and emissions.
By using ultracapacitors you can decrease the number of generators needed and cut down on running hours and maintenance costs.