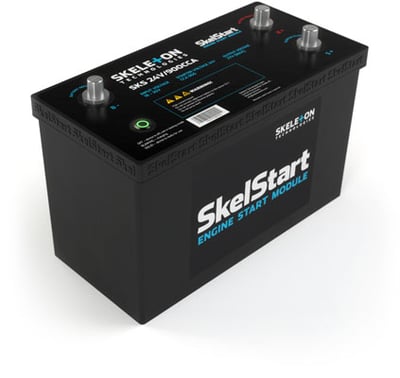 The SkelStart Engine Start Module (ESM) will start your engine anytime, anywhere.
No more delayed deliveries because of dead batteries, because the SkelStart works even in extreme weather conditions. It uses leading edge ultracapacitor technology that is extremely cold weather resistant, so you can be sure that your engine will start every single time.
Most of the problems truck drivers and truck owners face starting their trucks are related to batteries. It can be too cold, the batteries might be too old, or the vehicle has just been standing for too long and the batteries have been drained. Whatever the problem, the SkelStart Engine Start Module will solve it.
SkelStart is connected directly to the truck's starter engine, which means that it bypasses the batteries and therefore the problems that batteries might cause. SkelStart works even in extremely cold weather conditions (-40 °C / -40 °F) and will maintain near full capability even if your truck has been standing unused for months. SkelStart will make sure the engine will spur to life, no matter the weather or the condition of your truck's batteries.
SkelStart is great for trucks, but it also works perfectly with boats, yachts, mining equipment, forestry and agricultural machinery, and other heavy machinery. Contact us now to hear more.