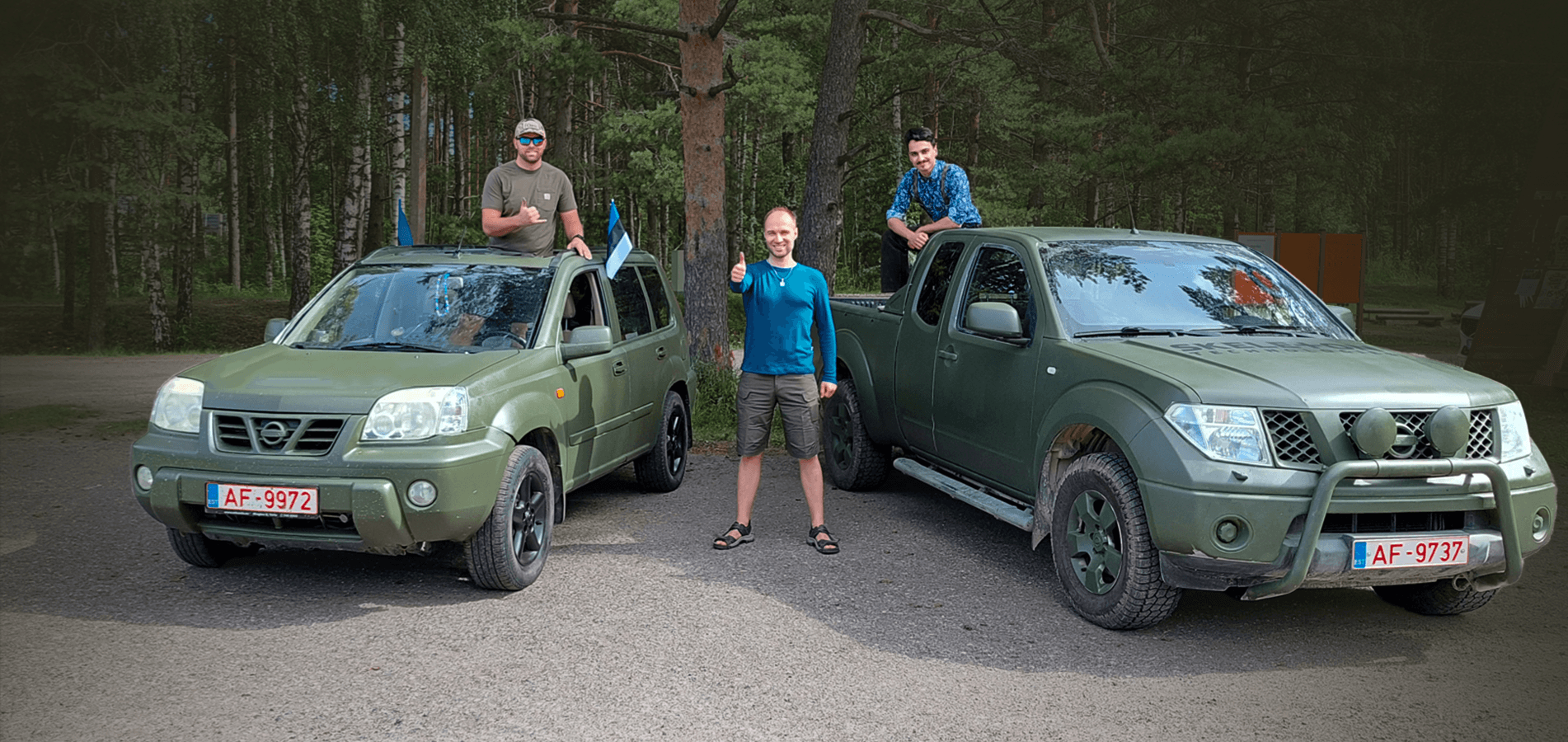 Like many people across the world, Skeletonians have been horrified and shocked by the full-scale Russian invasion of Ukraine starting in February 2022. As a European company – and a company based in Estonia – we immediately considered we couldn't remain passive. Instead, we wanted to help and express our solidarity with Ukrainians. Therefore, we donated to several organizations supporting Ukraine and Ukrainians.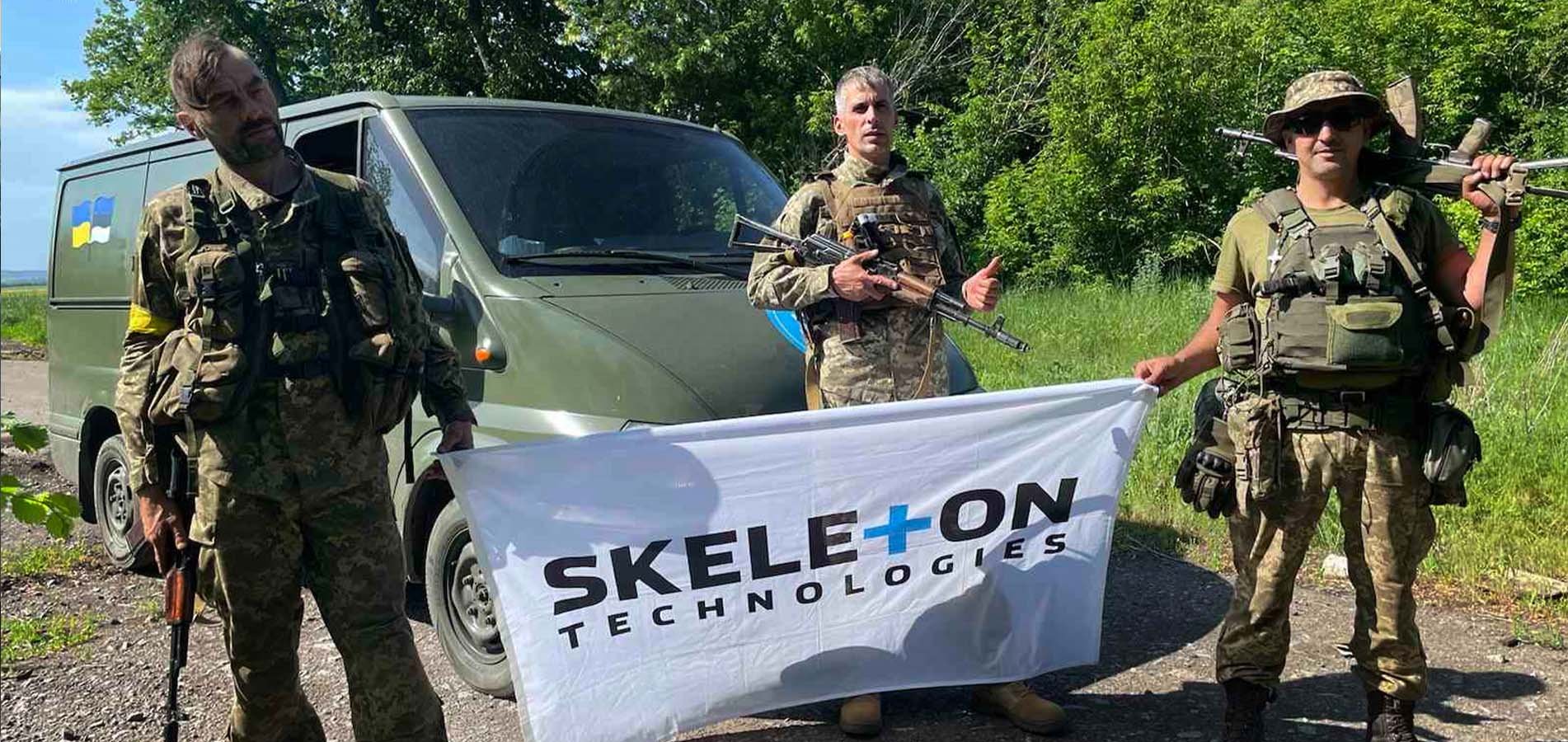 However, Skeletonians quickly expressed the will to do more while also mobilizing fellow colleagues in this regard. Several Skeletonians are Ukrainian citizens, others have friends there or have visited the country, and many simply wanted to help and have a direct impact. As a result, the Skeleton initiative was launched in June.


It was very important for us to partner with Ukrainians directly involved and with connections in Ukraine.
100% of donations go directly to the purchase of goods
100% of donations go directly to the purchase of goods. We also don't pay any transport fees as we either deliver the goods ourselves to Ukraine or use our good partners who are already driving there.


What is the Skeleton initiative and why is Skeleton doing it?
While many have donated to Ukrainian NGOs and associations, there were Skeletonians who wanted to directly help Ukrainian soldiers, with the kind of useful equipment they lack and need. Through this internal initiative, Skeletonians directly support one Ukrainian military unit, the 80th Air Assault Brigade of Armed Forced.
Anton Tuziuk, Mechanical Design Engineer at Skeleton and the initiative's lead, explains why we are helping this brigade in particular: "The 80th Air Assault Brigade is among the elite of the Armed Forces of Ukraine. They were one of the key elements in battles for Hostomel Airport, Irpin, entire Kharkiv-Izium counteroffensive and are now fighting to liberate Svatove-Kreminna. Fighting in the most difficult areas also means heavy losses of personnel and equipment. Volunteers can help patch the holes in supplies: vehicles, protective equipment, generators, Starlinks, drones, stretchers, uniforms, and other equipment. That's exactly what we are doing with Skeletonians."
But helping the 80th Brigade is also personal for Anton. "Our contact in the 80th Brigade is my cousin who is the chief medic in the artillery unit. He is a civilian doctor turned military medic, a real hero. He volunteered and has been now saving the lives of Ukrainian soldiers for over 320 days and counting." The parents of Anton's cousin are also retired veterans of the 80th Brigade and help bring our supplies directly to the frontline.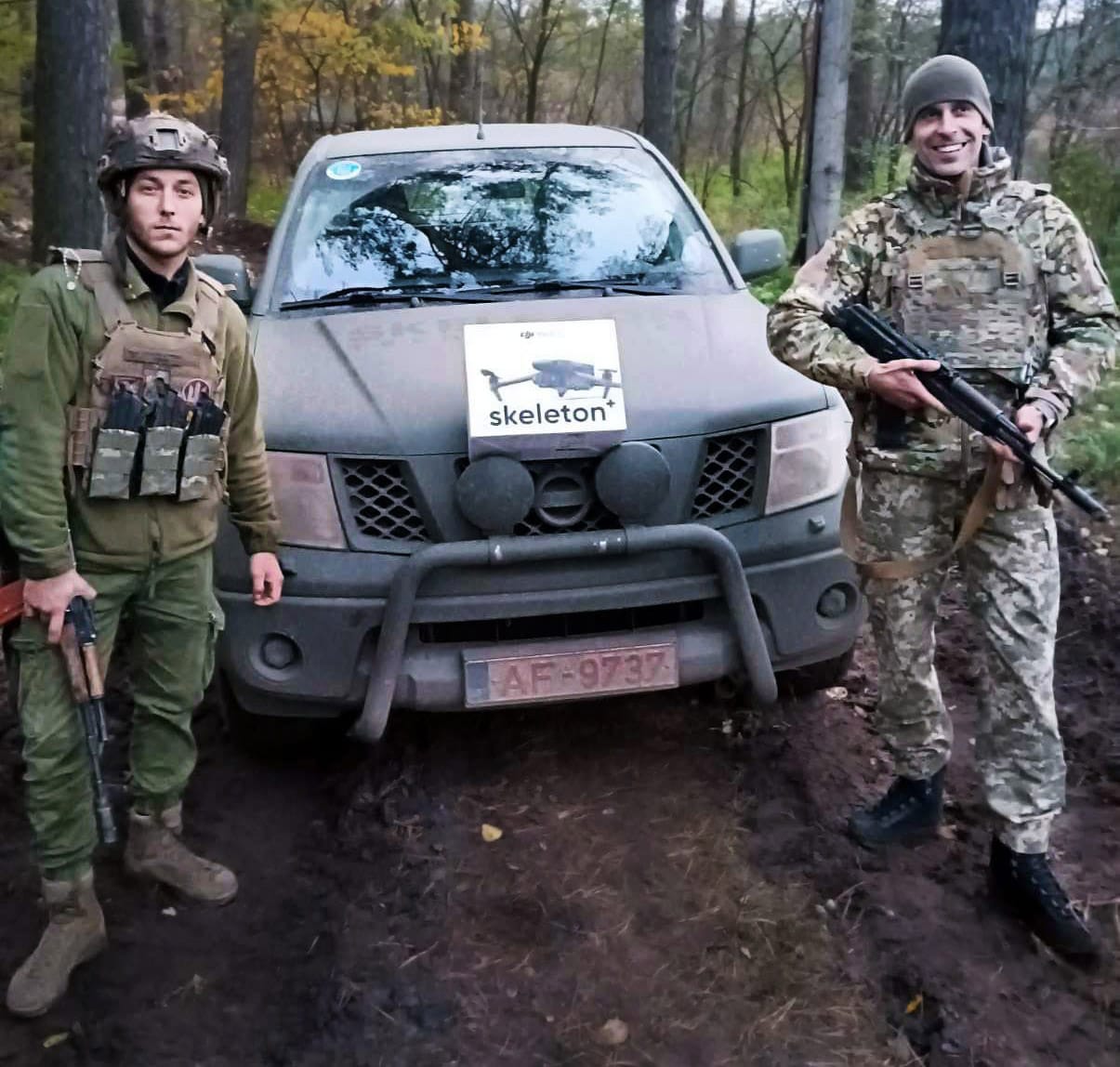 How does it work?
Anton is in touch with the soldiers of the brigade daily. Every month they discuss the unit's main needs in terms of supplies and draft a list of much-needed items that can be bought by any civilian in Europe. Then, Anton organizes internal fundraising events within Skeleton and explains the necessities of the soldiers. Therefore, each Skeletonian knows what he or she is giving for.
Every month, we find out the unit's main needs in terms of supplies and draft a list of much-needed items that can be bought by any civilian in Europe.
Once the money is collected, goods are bought and delivered in Kyiv or at the Ukrainian border usually by Skeletonians themselves. They are then handed personally over to the 80th Brigade veteran and father of the aforementioned medic, who delivers the donation directly to the soldiers. Skeletonians receive photos and thank you videos from the soldiers, seeing first-hand that their goods have not only been donated and delivered but also had a direct impact.


What is Skeleton doing differently?
Arnaud Castaignet, Skeleton's VP of PR and government affairs is proud of his colleagues' efforts. "This internal initiative launched by Anton is amazing and, as far as I know, we are the only company doing that: directly supporting one specific brigade, understanding and listening to their needs, and sending monthly help packages. While so many people and companies have donated in Spring 2022, at the beginning of the full-scale invasion, Skeletonians are continuing their efforts precisely when it is even more critical, and that help has a very direct impact on the battlefield."
So far, we have delivered 7 help packages to the 80th Brigade worth over 35,000€.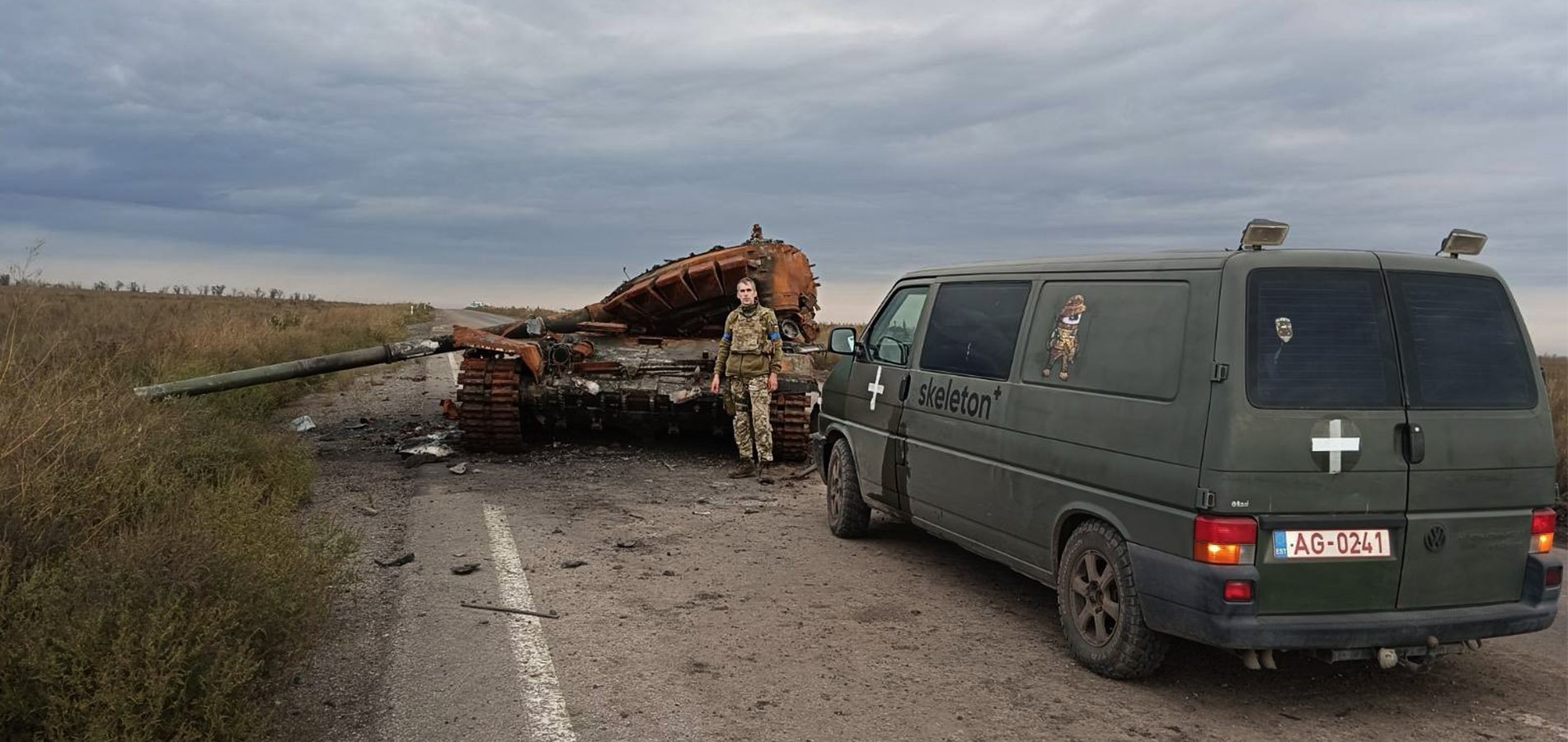 What do you give to the Ukrainian soldiers and why?
Ukraine urgently needs more of everything. That includes commercially available equipment that ordinary citizens of the world like us can get for them. Within the Skeleton initiative, we directly gather requests for goods that are available in Estonia and can be easily bought. Our delivered goods vary every month as we directly adapt according to the soldiers' needs. It included 5 vehicles, a drone, solar generators, Starlink kits to access Internet, multiple bulletproof plates and plate carriers, uniforms, mud tyres, military boots, thermal gloves, stretchers, tourniquets and more.
"Our 8th help package going out in February will include a pickup truck, thermal gloves donated by G-Heat Group, a partnering company from France, and at least 2 portable tactical radios," Anton explains.


Will Skeleton's help packages make a big difference in this war?
No. The whole world needs to do more to support Ukraine in every way possible, including with much more, much bigger equipment. However, some goods that usually don't seem particularly important can save lives.
Thermal gloves can help a soldier survive the harshest winter, a commercial drone you usually use for recreation can help locate enemy lines and mud tyres can help evacuate wounded soldiers. None of what we give is going to change the entire course of the war, but it directly helps these soldiers.

With this initiative, we offer one more way for people to get involved that is easy and trusted. Donors can directly see the impact of what we provide.

I don't work at Skeleton but I want to help and contribute, what should I do?
Donations are open to everyone. Here are the bank and PayPal details:


BANK (Estonia) IBAN EE982200221068637621
Account holder: Anton Tuziuk
Payment description: For Ukraine
PAYPAL (Worldwide): antueri@gmail.com
If you want to add a short message to the soldiers of the 80th brigade, please don't hesitate. We will be happy to include it in our help package.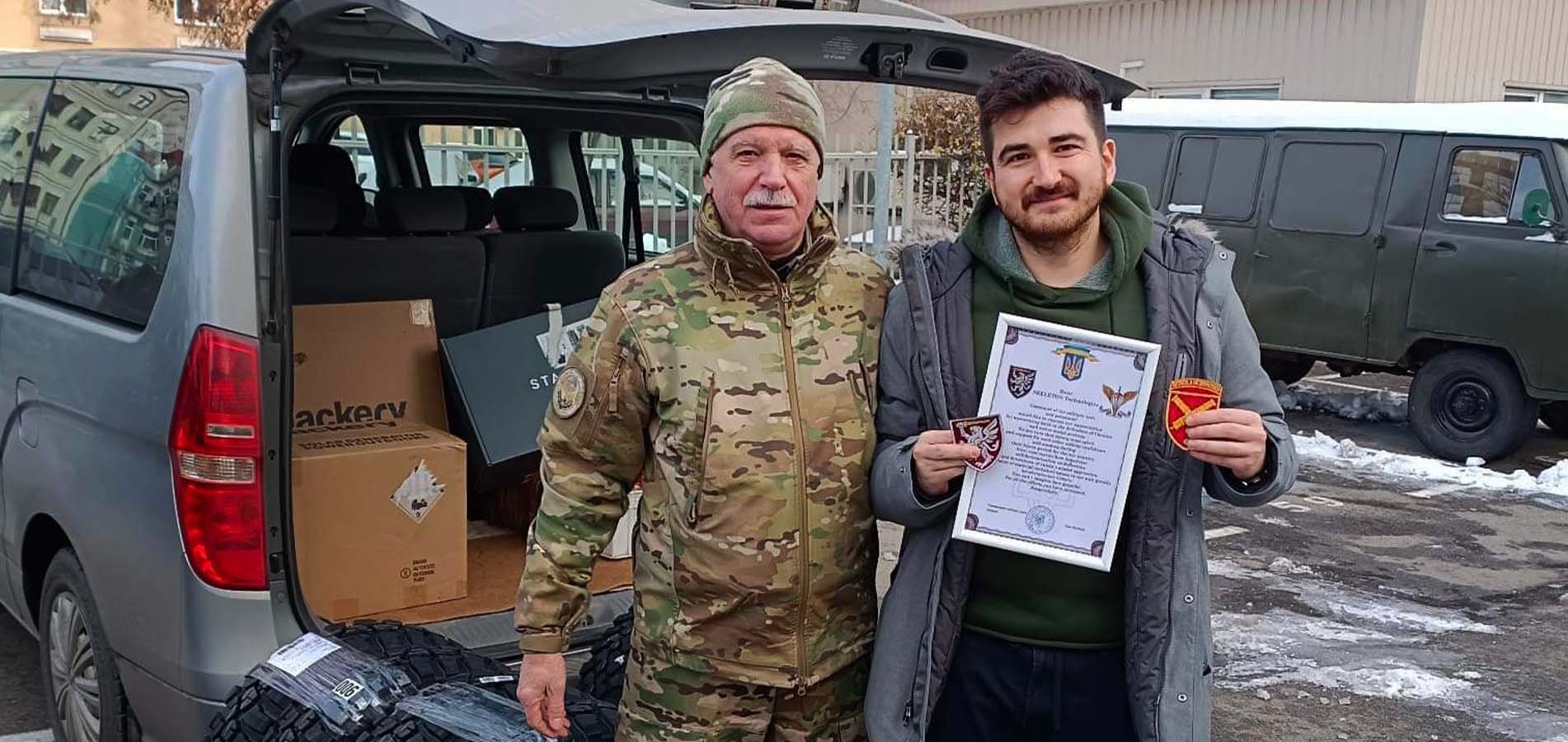 I'm still not convinced by this initiative.
No problem. There are huge numbers of ways to help, all that matters is that you find one that suits you the best. We recommend either Come Back Alive, which was launched in 2014 and is the largest and most credible charity supporting the Ukrainian Armed Forces, or United24, which was recently launched by the President of Ukraine to raise funds that will be allocated where needed among Ukrainian Ministries.