Children everywhere can rest assured that they will receive their presents on time this year, with Santa's sleigh undergoing a major upgrade to include ultracapacitor technology.
The high-power ultracapacitors from leading manufacturer Skeleton Technologies will provide both boost power and energy recovery as Santa delivers gifts to billions of homes around the world in just one night.
"The operational pattern of Santa's sleigh is a perfect fit for our technology," explains Skeleton Technologies' CEO, Taavi Madiberk. "The vehicle is continually stopping and starting as it lands on rooftops. Our ultracapacitors are able to recover the energy from braking and then quickly discharge that power to propel the sleigh back into the night sky."
Santa does not give media interviews, of course, but one of his elves commented: "We expect our partnership with Skeleton Technologies to deliver real benefits this Christmas. This is an extremely challenging time of year for us and we are always looking for new solutions to help us deliver festive cheer in an efficient and sustainable manner."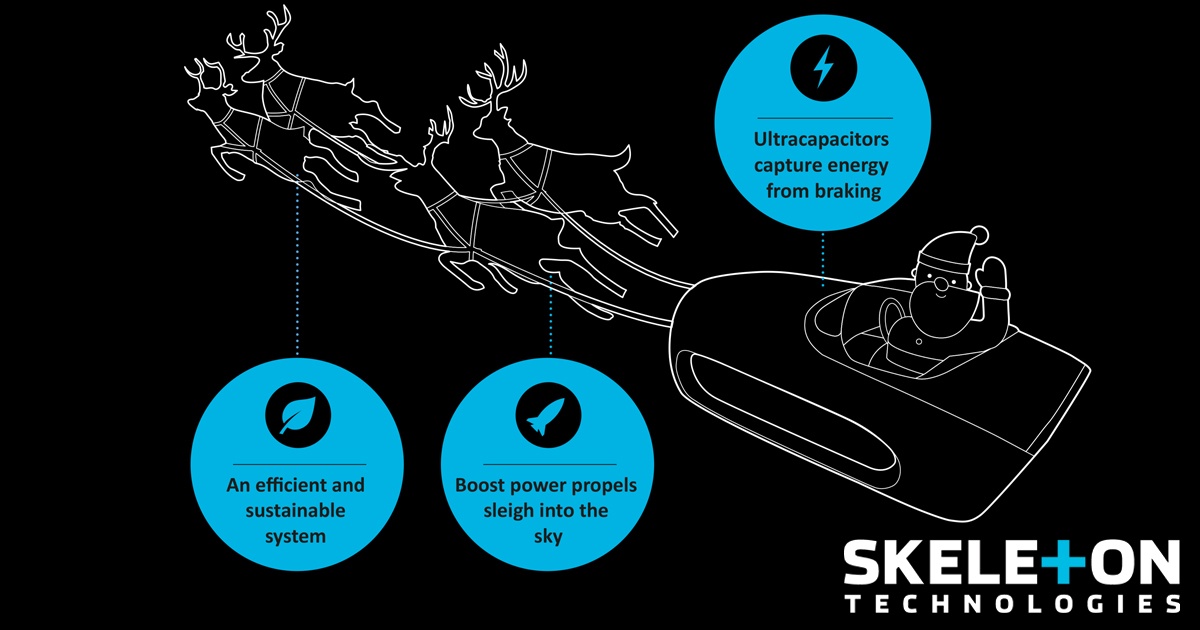 The deal with Lapland comes at the end of a highly successful year for Skeleton Technologies. Highlights have included: working with the European Space Agency to send ultracapacitors into orbit; co-creating the first KERS system for freight vehicles; pushing the limits of ultracapacitor energy density; securing Series B financing; and multiple award wins.
Thank you for being part of our journey. Merry Christmas, and we look forward to working with you in 2016.
*This news flash is entirely fictional, but you can't blame us for dreaming!