On June 16th, Skeleton Technologies has been invited to participate to an online workshop named "EU Research & Innovation for a climate neutral recovery: unlocking transformational change?" organized by Notre Europe – Jacques Delors Institute and E3G. This event aimed to establish how EU R&I policy will enable the delivery of climate neutrality in the context of the Recovery.
I had the chance to represent Skeleton at this conversation and discuss with European stakeholders such as Vasco Ferreira, Member of Commissioner Mariya Gabriel's cabinet, Sean Kelly, Member of the European Parliament (EPP), Imke Lübbeke, Head of Unit, EU Climate and Energy Policy at WWF European Policy Office, Pierre Serkine, Energy & Innovation Adviser at EIT InnoEnergy, Lea Pilsner, Researcher at E3G and Thomas Pellerin Carlin, Director of the Jacques Delors Energy Centre.
The European Commission has put forward its proposal for a major recovery plan. To ensure the recovery is sustainable, even, inclusive and fair for all Member States, the European Commission is proposing to create a new recovery instrument, Next Generation EU, embedded within a powerful, modern and revamped long-term EU budget. It is essential that we ensure the economic recovery is consistent with the achievement of long-term climate objectives, including climate neutrality by 2050 at the latest. The European COVID-19 recovery plan is therefore an opportunity to carry out a truly green revolution.
During my talk, I had the opportunity to introduce Skeleton's activities and products, highlighting the role ultracapacitors can play in the fight against climate change. The technology has developed rapidly in recent years thanks to advances in nanomaterials, electrification of infrastructure and industry and concerns around fuel efficiency and carbon emissions in automotive and transportation sectors, among others.
I emphasized that European recovery package must not only address the twin challenges of green and digital transitions but also industrial transformation. Indeed, when you look at global carbon emissions, electricity and heating account for 40%, transportation sector accounts for 20%, including 72% due to petrol and diesel vehicles, and industry and manufacturing also around 20%. Structural changes in these sectors are needed to have a significant impact on carbon emissions and our climate goals.
Therefore, significant efforts to develop technology and innovation for green transition are extremely important and this goes through, among other things, regulation and economic incentives supporting energy efficiency and not only saving companies. Regulation can create good changes, we need government policies from supply and demand sides.
I highlighted the role of energy storage, and ultracapacitors, particularly in solving the issue of intermittency of renewable energies. Consequently, if you want to support the development of renewables, you need to support energy storage technologies.
Of course, the topic of creating and supporting globally competitive companies was also addressed. We all know there will be winners and losers but delaying plans will mean we will lose out. Access to financing, both public and private, is key and therefore the example of Tesla, which really started off thanks to a 465 million dollars government green energy loan in 2010, was mentioned.
I also stressed that more European countries must be integrated in R&I strategy to narrow the innovation gap as industrial excellence must be more widely spread throughout Europe. The role of schemes such as the Just Transition Fund, should be critical.
It was a very interesting discussion with a broad audience of representatives of NGOs, industry, think tanks and lawmakers. At Skeleton, we are at the core of Europe's most important challenges such as the Green Deal and the Industrial Strategy and such event helps us engage with stakeholders and evangelize more people about the benefits of ultracapacitors and the critical role of energy storage technologies in general in the global fight against climate change.
---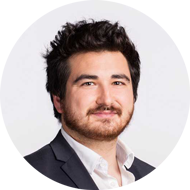 Arnaud Castaignet
Head of Communications & Policy at Skeleton Technologies