On March 1st, while social distancing measures kept people home, Skeleton Technologies encouraged all employees to participate in Skelfitness Challenge 2021 – "Skeleton Tiger Leap" and achieve the goal of collectively reaching 20 million steps by the end of May. Keeping each other healthy is particularly important, not only because Germany and Estonia were in lockdown at that time, but because it is always good to leave the cars at home and go for a walk anyway.
Skeletons' Chief of Staff Nele Leht explains: "You cannot underestimate team spirit at any company, but it especially applies to Skeleton as a pioneering company in our respective field. I am delighted that during those trying times our people got together for a common goal and for a good deed".
The individual aim was to walk at least 8000 steps a day for 90 days. To motivate everyone, we decided that if the goal was reached, Skeleton would donate 2000 € to contribute to building the new Tiger Valley in Tallinn Zoo. Employees have broken this goal, since we have collectively walked 42,755,774 steps during that period, confirming that Skeleton employees are overachievers!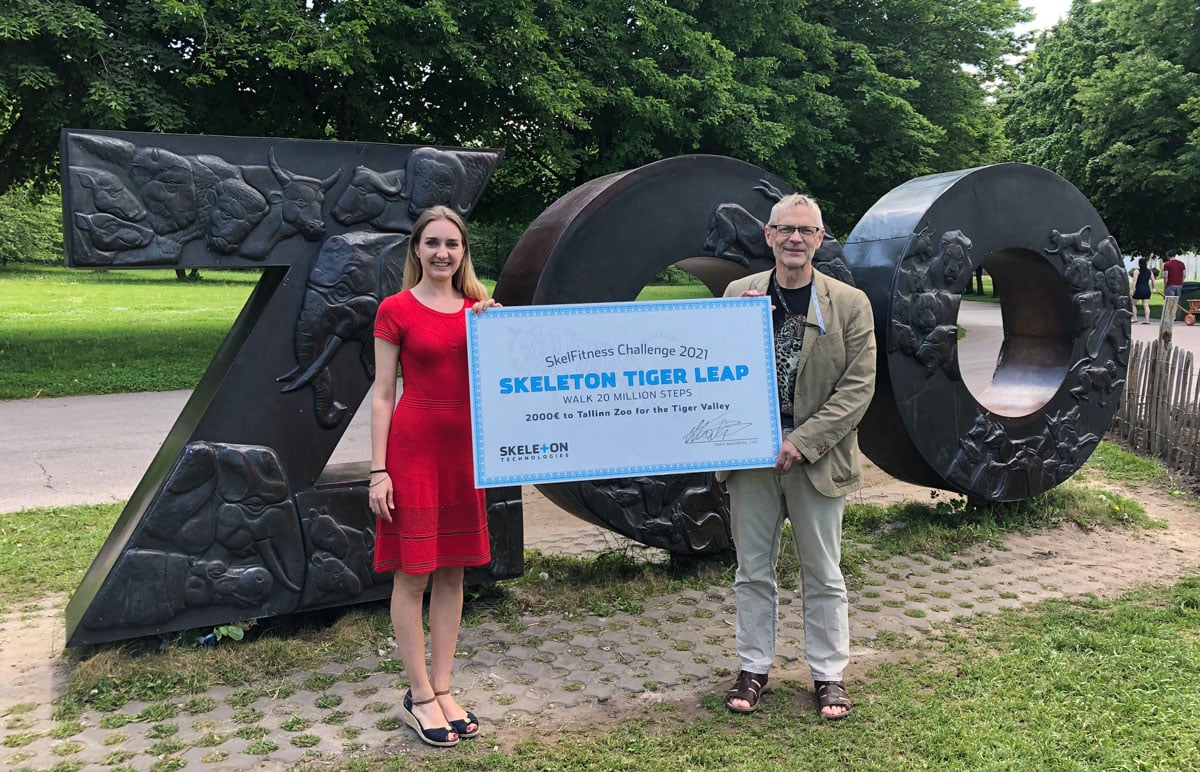 Therefore, Skeleton Technologies today announced that it has made the donation and Skeleton's Ailen Raudsepp went to Tallinn zoo to officially give the check to Tiit Maran, the director of the zoo. This donation will support the Tiger valley (Tiigriorg), a new project by the Tallinn zoo currently under development that will simulate Southeast Asian tropical areas and improve the animals' well-being while having a strong focus on nature education for young visitors. Estonia's only zoo has celebrated its 80th-anniversary last year and, despite the fact zoos all over Europe are currently facing difficulties because of Covid19, it has consistently invested in development over the recent years to ameliorate animal welfare.
Now that the goal has been reached, should we stop walking? Absolutely not! Countless research has revealed the benefits of walking for employee wellbeing. So, we need to keep encouraging physical activity in general. It is also great because both in-office as well as remote employees can participate, creating more opportunities for us to mingle and socialize.