On 25-26 October, Amsterdam hosted The Business Booster by InnoEnergy, the leading innovation event in sustainable energy. And where innovation and sustainable energy meet, it's the perfect place for Skeleton Technologies to showcase the product line-up that will change how the biggest industries in the world operate.
Egert Valmra, Program Director at Skeleton Technologies, discussed Skeleton's line-up of industry-leading energy storage products with the VP of the European Commission Maroš Šefčovič, and highlighted their potential in energy saving applications in automotive, heavy transportation, and grid.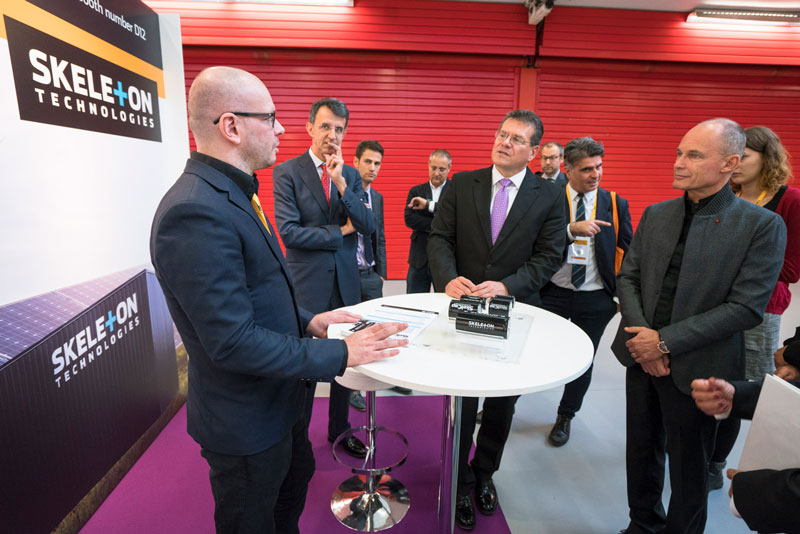 Program Director Egert Valmra explaining the technology behind Skeleton Technologies industry-leading SkelCap ultracapacitors to Maroš Šefčovič, the VP of the European Commission.
TBB 2017 was all about accelerating clean energy innovations to further the energy transition. Renewable energy has become more cost-effective and is competitive with fossil fuels as a source of energy. Yet there are a number of industries still trailing behind on hybridization and electrification, and here's where the innovators at TBB can help.
The Business Booster welcomed 150 innovations and attendees from 43 countries to discuss sustainable energy solutions across Europe. Highlights of the event included keynotes from Maroš Šefčovič, VP of the European Commission and in charge of the Energy Union, Dr. Bertrand Piccard, Chairman of the Solar Impulse Foundation and HRH Prince Constantijn of the Netherlands, Special Envoy for StartupDelta2020.