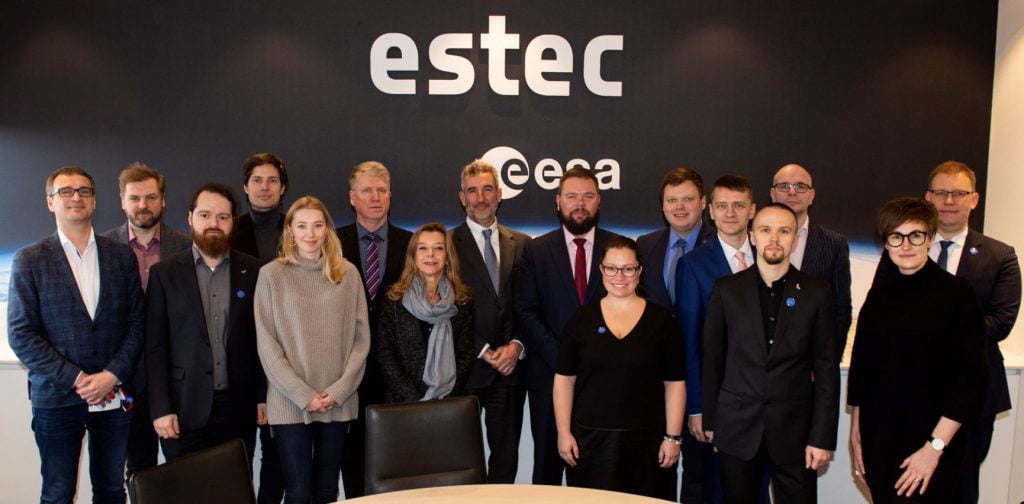 Our Programme Director Egert Valmra was part of a delegation of Estonian companies visiting the Netherlands, led by the Estonian Foreign Trade and IT Minister Kaimar Karu. The aim of this visit was to introduce the Estonian space programme and develop partnerships between the European Space Agency and Estonian companies.
The delegation met with Jan Wörner, Director General of ESA, and visited the European Space Research and Technology Centre (ESTEC), which is the European Space Agency's main technology development and test centre for spacecraft and space technology. It is situated in Noordwijk, South Holland, in the western Netherlands.
Minister Karu introduced the Estonian Space Policy Program and Action Plan for 2020-2027 and the companies which already collaborate with the ESA. The business delegation accompanying the Minister on the visit to the Netherlands included nine representatives of space companies: Testonica Lab, Power Up Technologies, Guardtime, Golbriak Space, Milrem Robotics, Tartu Science Park, ESA BIC Estonia, Invent Baltics, and Skeleton Technologies. Among other tasks, Egert Valmra runs our activities, partnerships and engagement with the space sector.
ESA has been a partner of Skeleton since 2015, when the space chose our SkellCap cells for testing for use in future missions. Bernard Zufferey, PECS Manager at the European Space Agency said: "Ultracapacitor technology has the potential to increase mission safety while reducing mission costs. Skeleton Technologies' SpaceCap cells will allow us to package a large amount of power into a very small space, creating opportunities for new applications".