The EIC will allocate 20 M EUR to support Ukrainian deeptech start-ups & their integration into European ecosystems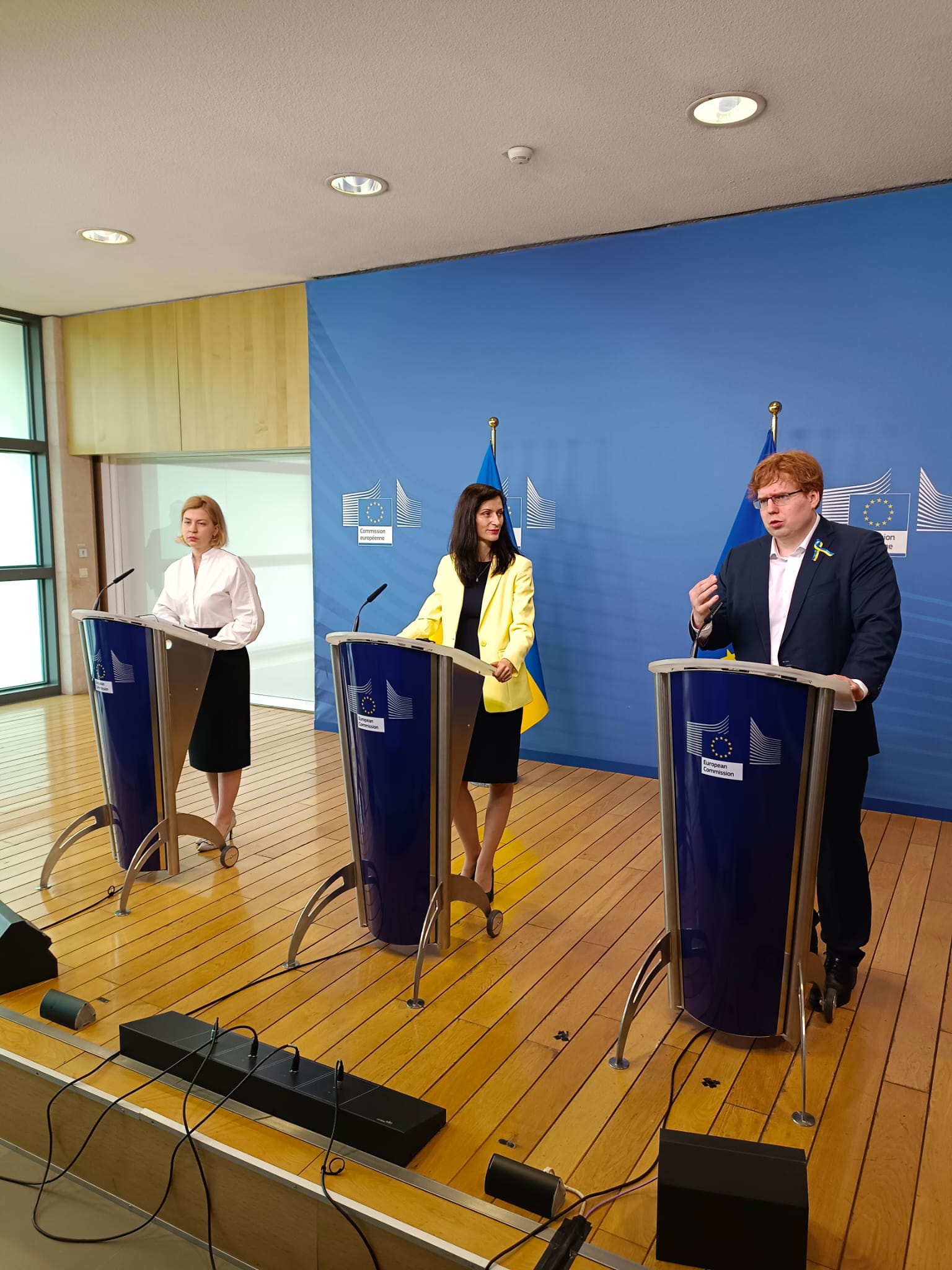 Our CEO and co-founder Taavi Madiberk was speaking today in Brussels at a press conference, alongside Mariya Gabriel, Commissioner for Innovation, Research, Culture, Education and Youth, and Olga Stefanishyna, Deputy Prime Minister for European and Euro-Atlantic integration of Ukraine. Mariya Gabriel announced the EIC will allocate 20 mln EUR to support Ukrainian deeptech start-ups & their integration into European ecosystems.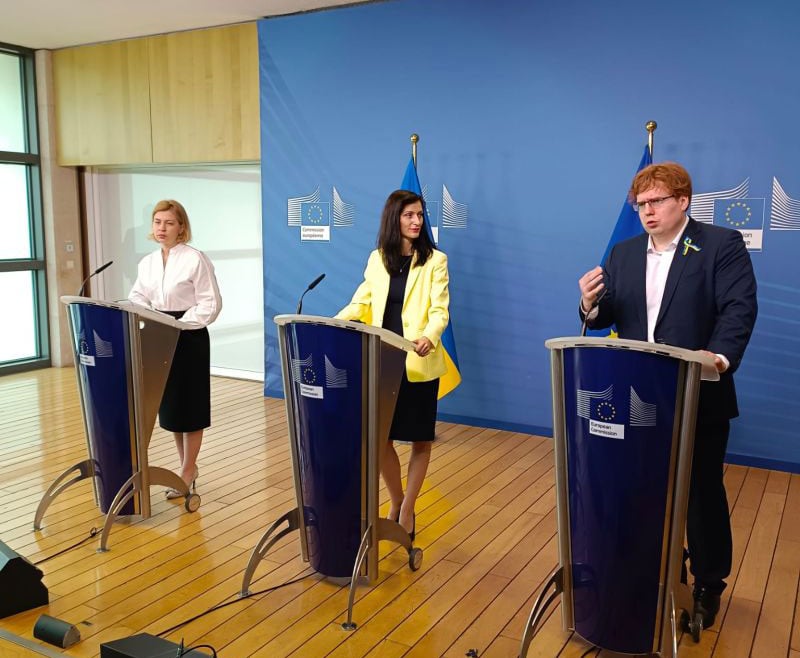 Taavi was invited to speak at this press conference as EIC Board Member because he initiated discussions to launch this initiative aiming at supporting Ukrainian companies.
Here are the key messages he shared during this press conference:
• "When the full-scale Russian invasion of Ukraine started, I couldn't imagine we could discuss business as usual. The discussion was initiated at the EIC Board meeting in Paris in early March and I am very glad that the European Commission has moved quickly. The work done by Commissioner Gabriel and her services has been impressive. We now need to make sure this money and support are delivered to the companies as soon as possible.
• Since February 24th, we hear about these cities because of Russian atrocities, crimes, and bombings, but Mariupol received in 2019 two smart city awards "Startup City" and "Best City Transport Model". Kharkiv is the birthplace of the first Ukrainian unicorn GitLab. Odesa is the home to prominent startups such as Looksery, which was bought by Snapchat. Before the war, Ukraine was the fastest growing tech powerhouse in Europe. I know war is ongoing and we need to do everything to help Ukraine win it but we also need to think about the long-term. Ukraine will have to be rebuilt, its tech companies will play a huge role and they will benefit Europe as a whole. Investing in Ukrainian tech is investing in the European tech of the future, which is why we must embrace Ukraine, to strengthen the Union.
• This EIC action is a small step. But I want to highlight the great potential Ukraine and its companies have. The country has it all: excellent education system, particularly in STEM, tech unicorns, such as GitLab, the first Ukrainian unicorn, entrepreneurial mindset. Ukrainians are fighters, they are winners. Today, Ukraine is paying the highest price in order to become part of the EU on legal grounds. But in the European tech ecosystem, Ukraine is an integral part of it. For European tech and innovation, I have no doubt Ukraine will soon be as important as France, Germany, or Poland.
• At Skeleton Technologies, we have the chance of having great Ukrainian engineers. Many European companies have. But Europe should not see Ukraine only as a great pool of talents and specialists. Integrating Ukraine into the European tech ecosystem, as well as integrating Ukraine in the EU, is going to give a huge boost to Europe's tech, research and deeptech. My vision is clearly that Ukraine belongs in the EU and we must treat its tech sector as a European one. A strong Europe, a Europe as global deep tech leader is possible only with Ukraine.
• As I am the CEO and co-founder of a cleantech company, I also want to highlight the key role Ukraine can play in Europe's energy transition. A major overhaul to eliminate energy dependence on imports of coal, gas, and oil, is essential for Ukraine to assert its sovereignty and gain energy independence. Innovation and deeptech will play a key role in this and in the fight against climate change. Thanks to its tradition of industry and innovation, the production of equipment for renewable energy, batteries, electric vehicles, hydrogen and other solutions to get rid of dependence on fossil fuels will be the focus of the revival of Ukrainian industry. Ukraine will be a key asset to protect Europe from energy blackmail and the devastating effects of climate change."
This EIC action will support intermediate organisations such as start-up associations, enterprise support centres, incubators, accelerators, etc., including those that operate at European or trans-national level to work together to provide urgent support to Ukrainian innovative tech companies (start-ups and SMEs) that are:
established in Ukraine; or

relocated or established in EU Member state or Horizon Europe associated country following Russia's invasion of Ukraine on 24th February 2022. Such companies must be established by individual start-up founders, co-founders or top managers (CEO, CTO or equivalent) holding Ukrainian citizenship.
Particular attention should be paid to supporting women-led companies and companies working on innovative solutions/services/products for rebuilding and recovery efforts in Ukraine. The action enhances the activities funded under the European Innovation Council (EIC), paving the way for the participation of Ukrainian start-ups in future EIC calls.
The proposal under this action should include activities that will create opportunities for Ukrainian innovative tech companies to interact with main actors of the European innovation ecosystem, create interlinkages and gain access to new markets. Through variety of business advisory services, hands on and financial support, the proposal should provide substantial help to Ukrainian companies enhancing their capacity to interact successfully with the European ecosystem actors and take advantage of the European innovation financing instruments.
The proposed actions should foster the collaboration between Ukrainian tech start-ups and European innovation associations and startups. . The proposal should particularly focus on strengthening the Ukrainian tech ecosystems and supporting innovative solutions/actions for rebuilding Ukraine.