[TALLINN, ESTONIA] – March 16, 2017: Skeleton Technologies, Europe's leading ultracapacitor manufacturer, today announced the launch of SkelStart Engine Start Module 2.0, the most powerful engine start module available. Designed together with SkelStart Torque, the technology inside is developed keeping heavy industry – such as haulage, forestry and marine – in mind.
---
Sign up for our free webinar on 16th of March:
Introduction to SkelStart ESM 2.0 - Register today!
---
SkelStart Engine Start Module 2.0 is based on Skeleton Technologies' market-leading graphene based SkelCap ultracapacitors, providing the highest power and energy density on the market, and is available in 24V and 12V versions. The new module features a casing constructed out of non-flammable material that is resistant to vibration and shock, and is a stud terminal device in BCI Group 31 size. SkelStart Engine Start Module 2.0 has also been improved in terms of almost every parameter, with specific values as follows (for more detailed information, download our SkelStart ESM 2.0 white paper):
| | | |
| --- | --- | --- |
| | SkelStart ESM 1.0 24V | SkelStart ESM 2.0 24V |
| Cold Cranking Amps: | 921 A | 1218 A |
| Peak Power: | 65,3 kW | 109,6 kW |
| Cranking Power: | 38 kW | 55,4 kW |
| Cold Cranking Power: | 33 kW | 48,2 kW |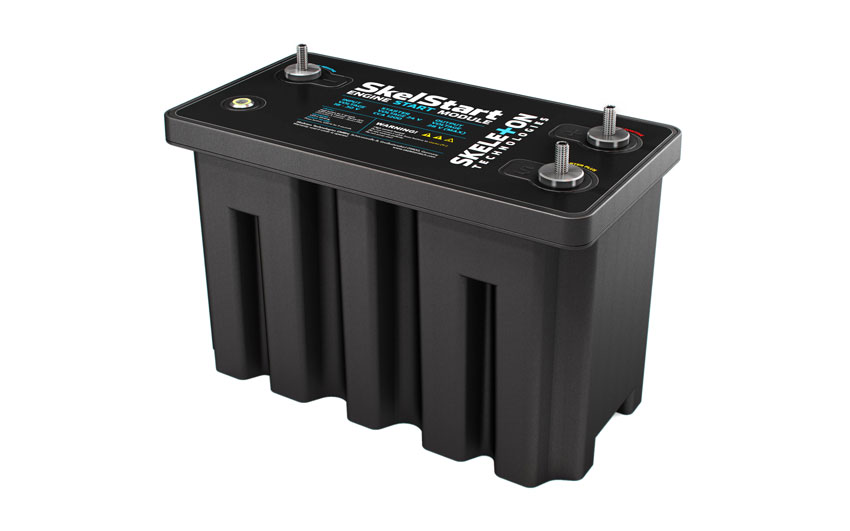 Lead-acid batteries have traditionally been the most commonly used solution for starting internal combustion engines in vehicles, despite their limitations in terms of lifetime, power performance, and working environment. However, ultracapacitor-based engine start modules are growing in popularity due to their ability to provide reliable engine starting in extreme conditions, less downtime and maintenance requirements as well as lower replacement costs and fuel consumption.
"Heavy vehicles operating in the haulage, forestry and marine space need to be reliable and power efficient as any downtime rapidly impacts profits."
said Taavi Madiberk, CEO of Skeleton Technologies. "Based on our market-leading technology, SkelStart Engine Start modules are designed to provide reliable engine starting in even the harshest conditions, as well as reduced ongoing costs on maintenance and replacement. Businesses can therefore expect their equipment to work cost effectively year-round, affording them peace of mind."
SkelStart Engine Start Module 2.0 will provide vast benefits for industries that rely on large vehicles in extreme conditions. Short battery lifetimes hugely impact vehicles in the haulage industry. Vehicles' batteries are unable to charge fully during rest periods which damages the batteries and shortens their lifetimes and needing to be replaced every 7-8 months. Ultracapacitor-based Engine Start Modules can start the engine even when batteries are dead, increasing battery lifetimes.
Another common issue in haulage, forestry and marine vehicles are the need to jumpstart lead-acid battery engines in cold weather. Jump starting trucks adds downtime while the vehicle cannot be used and often leads to late delivery fees. Similarly, jumpstarting forestry and marine vehicles is often an issue due to the remote locations involved.
The SkelStart Engine Start Module 2.0 can replace a battery, or be installed in addition to existing batteries, to handle all engine starting duties. Skeleton Technologies ultracapacitors are based on patented curved-graphene nanotechnology, which guarantees power density superior not just to batteries but also to other ultracapacitors on the market. Combined with excellent reliability and a very long lifetime, ultracapacitors provide a solution that is not only operationally efficient but also highly cost effective.
SkelStart ESM 2.0 is available in the Skeleton Technologies Webstore.
About Skeleton Technologies
Skeleton Technologies is the global leader in graphene-based ultracapacitors and energy-storage systems. We deliver high power, high energy, reliable and long-life storage solutions across industry. Through the use of patented nanoporous carbide-derived carbon, or 'curved graphene', we have achieved global breakthroughs in ultracapacitor performance.
Our ultracapacitors deliver twice the energy density and 4 times the power density offered by other manufacturers. Our current customer base ranges from leading Tier One automotive firms and industrial equipment OEMs to truck fleet operators and aerospace prime contractors.
For more information on SkelStart ESM 2.0, contact Kaarel Kork, SkelStart sales team leader at Skeleton Technologies.
kaarel.kork@skeletontech.com
+372 5308 3316.
CONTACTS:
Matthew Tubbs
Harvard Public Relations for Skeleton Technologies
Matthew.tubbs@harvard.co.uk
02078612853
---
Sign up for our free webinar on SkelStart ESM 2.0 on 23th of March at 5pm EET. Places are limited - register now!