Formula Student Team Tallinn: Inspiring the Next Generation of Engineers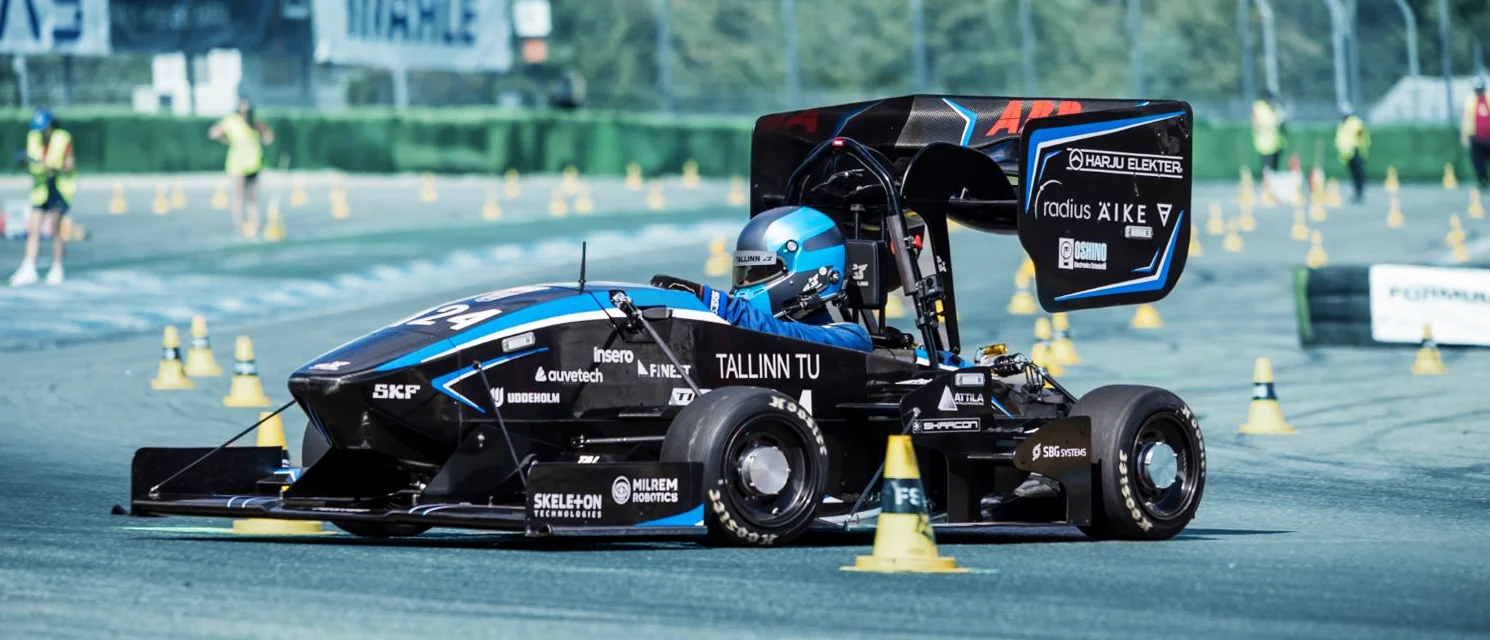 Skeleton Technologies is proud to be the Gold Sponsor for Formula Student Team Tallinn. In an interview with Team Captain Kristjan Taimla, we delve into the competition, explore their technical challenges, and receive the latest updates from this year's races.
Formula Student is a global educational engineering competition that uses motorsport to inspire students. The main objective of the competition is to design, build and present a prototype single-seater formula car. The format provides an ideal opportunity for students to demonstrate their engineering knowledge and to test and improve their ability to deliver a complex and integrated product in the demanding environment of a motorsport competition.
Formula Student Team Tallinn consists of students from Tallinn University of Technology & Tallinn University of Applied Sciences. Skeleton Technologies has been supporting the team since 2016.

"Formula Student is a great place where students can put what they learn at university into practice, and practice is the best way to really understand how different systems work. As a technology company, we want to support young engineers who want to be the best in the world at what they do. Formula Student is a great platform for young, up-and-coming talent to practice and learn. In addition, FS Team Tallinn's shift to electric cars is closely aligned with Skeleton's commitment to decarbonisation," said Ardo Kõiv, Head of Module Development and FS Team Tallinn veteran.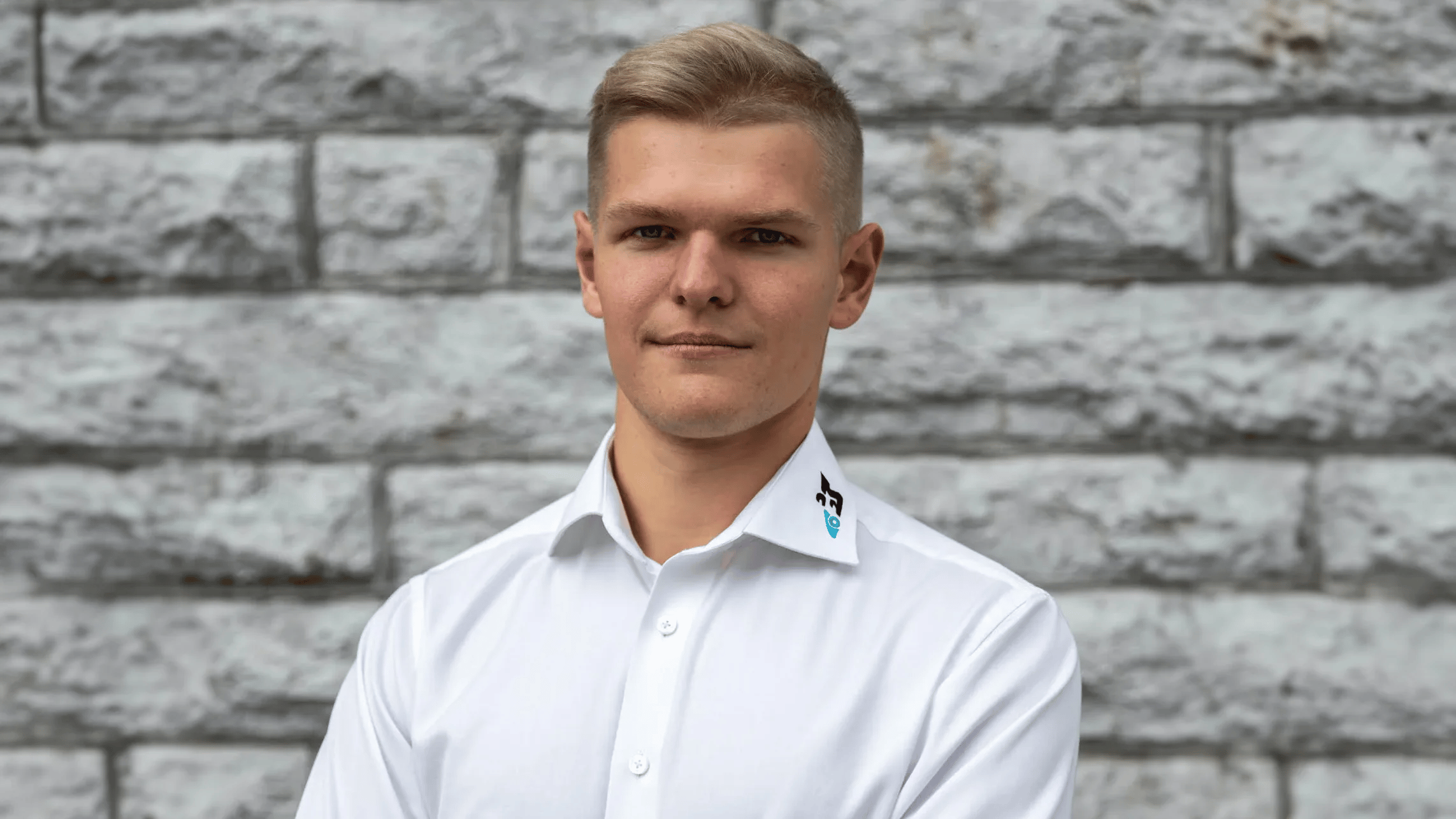 FS Team Tallinn captain Kristjan Taimla.
Kristjan, tell us about the FS Team Tallinn.
FS Team Tallinn was founded in 2006 by a small group of automotive engineering students and Formula car enthusiast Juhan Sein, the then Dean of Transportation at Tallinn University of Applied Sciences.
The team consists of students from Tallinn University of Technology (TalTech) and Tallinn University of Applied Sciences (TTK). All the team members are full-time students and most of them are earning their bachelor's degree. This means that all the knowledge required to build a world-class Formula car must be independently researched and developed by the team.

During our 16 years of building formula cars, there have been about 400 students involved at different times. These are esteemed engineers in Estonia with countless start-ups and leading positions in the technology industry.
The experience of FS Team Tallinn can open your eyes to the fact that nothing is really impossible and that if you dedicate enough time to something you believe in, great things can be achieved. These once-small companies are now known throughout Europe and are making a difference in future technologies. A great example would be Skeleton, where our Chief Engineer from 2015 is now head of development alongside many other veterans of the team.
What are the strengths of your team? Where do you excel?
I think one of our strengths is the Estonian work ethic and stubbornness. We look at different solutions and try to keep them simple but effective. This allows us to keep production times down and achieve good reliability with extensive testing. Our goal is to get the Formula car running as fast as possible, initially without the aero package. The additional vertical load on the tire is not used to test the reliability of the electronics.
In some areas, you are an underdog compared to university teams in the automotive mecca. How have you managed to turn this to your advantage?
Team Tallinn is far away from the automotive heart of Central Europe, but we have managed to turn this into a positive thing. The decisions and designs are not influenced by the industry. We have solutions developed from the ground up. This is a different approach from many German teams.
The second thing is that we produce everything we can ourselves. This allows us to carefully plan production times and limit downtime. When defending our decisions at the design event, every team member knows exactly how their system came to be. Documentation of production allows us to make better decisions for the following year. With 16 years of experience, we have developed a good working rhythm.
Another thing the team is proud of is the production quality of our composite parts. We have been building a monocoque since 2015 and the technologies have improved every year. If the surface quality is good, the aero package will work closely to what has been simulated and analyzed. When resources are limited, it forces the engineers to be clever and make the most of what we have to use. A huge budget doesn't necessarily mean a faster car. It's the engineers that make the difference.
More expensive sensors and high-tech dynos can improve data collection to make more informed decisions. Because of the limitations, we have developed these ourselves. For example, as far as we know, we are the only team in the world to use a self-made ground speed sensor. This gives us more control over the system and the hardware costs us about 10 times less. Developing test benches to validate and test specific systems takes more time, but the experience gained is invaluable.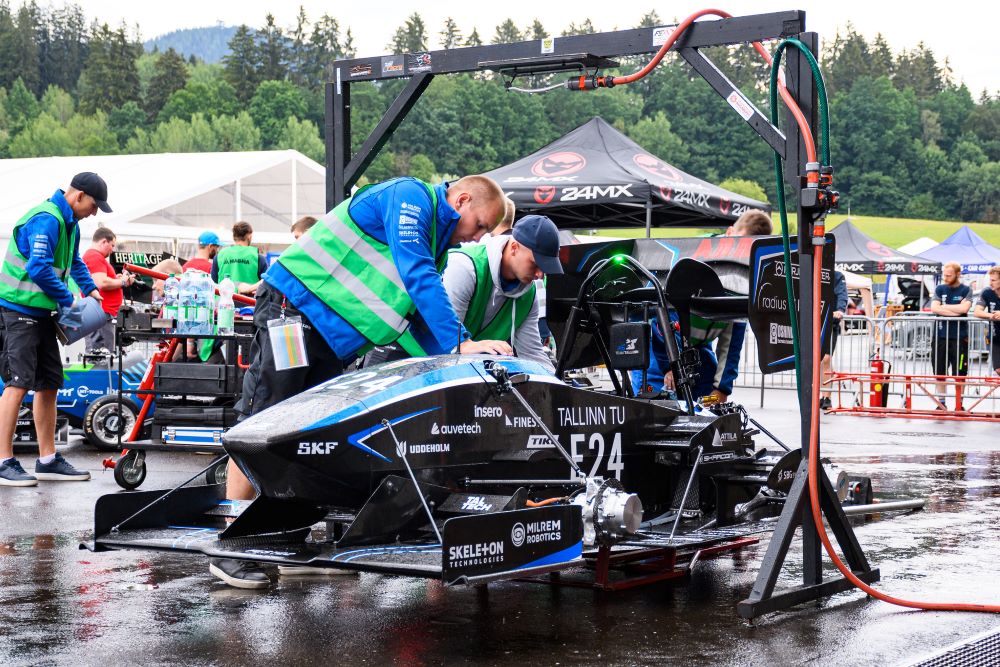 Team working on FEST2022 in Austria.
Over the course of 16 seasons, you've developed an internal combustion, an electric and an autonomous electric race car. This year, you have integrated the two electric modules into one, with and without a driver. Why did you do it?
The decision to integrate two systems into a driverless electric Formula Student car was taken with the clear aim of being a competitive team in the world championship. To score maximum points, the Formula car must also be able to drive itself. This is the development direction of the automotive industry and the future of transport. Based on our results from driverless competitions in the 22nd season, with two 1st places and a 3rd place at FS East, we have one of the most reliable systems.


Can you give any examples of technical challenges you have faced this season?
The biggest engineering challenge this season has been packaging the Formula car for the new aero side wing concept and driverless integration. When the goal is to keep the mass and centre of gravity as low as possible, adding components to the wiring, steering and braking systems makes this a feat of engineering. The latest FEST23 car, with the integration of a larger cooling system and driverless system, weighs less than the previous car at the end of the season. The centre of gravity remains the same as the rear of the monocoque has been reduced by 22% in volume and the control unit has been raised above the battery.
With the integration of our driverless system directly into our latest Formula car, sharing testing time with the EV side is a big challenge. Trying to configure the setup of the Formula car with the driver and working on reliability issues requires a lot of testing. Add to this the integration of the driverless system with the same time resources available and the whole project can be negatively affected. It takes good management and planning to pull off a feat of this magnitude.
How did the 2023 season go?
Ambitions were high before the season started. As always, the latest Formula car must perform better than the previous one, although the bar is set high.
Last season, we didn't make it to the top 3 teams in the world due to a technical problem in the last race. With the car having 45% more downforce, the goal for the 2023 season was to beat the big teams on track on merit.
For a team like ours, reliability is one of the most important factors if we want to be at the top of the standings. That is why we concentrated on improving the shortcomings of the previous season. The 5 competitions in 2022 gave us 35 podium finishes and an overall win at FS Italy with the FEST22 car.
Our schedule this summer was very busy as we competed in five events in Italy, Austria, Hungary, Germany and Croatia with only one Formula car. Before the season we had no major problems and we did a lot of testing. Hopes were high as the car's speed on our local circuits had improved a lot compared to last year.
Overall, every competition went really well. We reached the finals of the design events at every competition and won three of them. No other university in the world can boast such a record! We are really proud of the team's theoretical knowledge.
Of course, this also translates into building a fast car. We competed for wins and podiums in every discipline and competition with our fastest Formula car ever. However, we couldn't put the icing on the cake with outstanding overall results due to reliability problems. Prior to the season, we had managed to fix all the problems from the previous summer, but in the endurance events, we were faced with unexpected problems that hadn't surfaced in the 500km of testing we had done. The main factor was the battery and its management system.
We can look back on the season with positivity and be proud of the work we have done in the right direction. The car is one of the fastest in the world, as are our static results. We will continue to fight to be the best.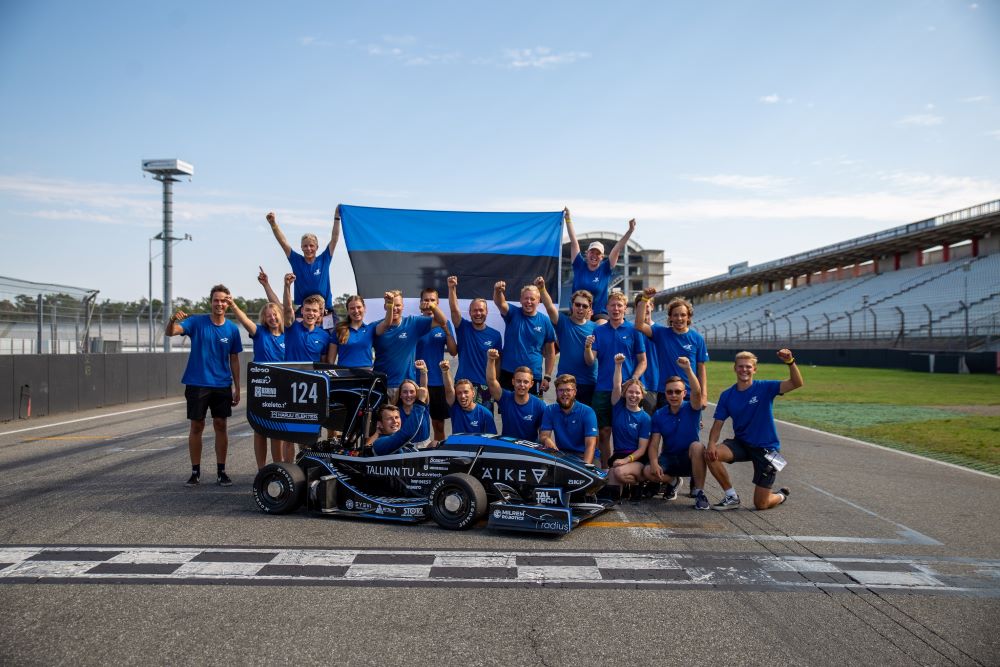 FS Team Tallinn in 2023.

Skeleton is your Gold Sponsor. What can you do with our support?
Skeleton has supported the team for many years as a Gold Sponsor. Their support has allowed us to build the powertrain test bench and start developing our new motors and inverters. The advice from our veterans, who work in a similar field and have exceptional knowledge, has also been invaluable. We have also used their bi-directional power supply for battery element testing. It is great to have a sponsor who continues to believe in the team and future engineers.



Student Formula veterans at Skeleton
I caught up with a few of the FS Team Tallinn veterans at our headquarters.

Markko, Aleksander, Ardo and Jaan.
Ardo Kõiv, Head of Module Development
What did you do at FS Team Tallinn?
I was responsible for ensuring that the car's development stayed on schedule. I also played a role in coordinating trips to competitions, managing the team's budget, and, on top of all these responsibilities, I designed the drivetrain responsible for connecting the electric motor to the wheels.
What are some standout moments from your time with the team?
To me, Student Formula embodies the great atmosphere where the team unites to develop, test, and race a brand-new car within the span of just one year. The most unforgettable moments revolved around the first drive of the new car.
Competitions were typically the settings where unexpected adventures unfolded. For instance, during the Czech competition, to get FEST15 up and running, we spent our days in the pit and, come nightfall, we had to slip out of the competition zone to locate a secure spot for car testing.
How has the Student Formula experience influenced your work at Skeleton?
Without a doubt, over 30% of my technical knowledge acquired in university stemmed from Formula Student. This experience significantly deepened my comprehension of engineering by allowing me to apply theoretical skills in practical scenarios. Also, the core values we cherish at Skeleton – 'pushing boundaries,' 'using good judgement,' and 'getting shit done' – were pretty much how I rolled in Formula Student.


Markko Püü, Product Development Engineer


What did you do at FS Team Tallinn?
I was responsible for the design of the air intake system and flow optimization using CFD analysis.

During my four-year tenure with FS Team Tallinn, I focused on designing and optimizing the air intake system, utilizing CFD analysis. I contributed to building three cars, FEST10, FEST11, and FEST12, with FEST12 being the team's final internal combustion vehicle.
In compliance with Formula Student regulations, we had to work within constraints such as a 20 mm diameter intake air restrictor and a 610 cc engine capacity limit


What are some standout moments from your time with the team?
The competition tours were filled with memorable moments. One that stands out the most took place at FS Austria with FEST 11. The scrutineers were not satisfied with the car's frame, even though it complied with the rules. Our only option to pass scrutineering was to weld some additional tubes onto the frame. We tackled this challenge in the middle of the night, right in the campsite's parking area, with nothing but the light from one of our camper van's headlights.
How has the Student Formula experience influenced your work at Skeleton?
The most useful skill from Formula Student was the ability to adapt quickly to unexpected situations and the "never give up no matter what" attitude.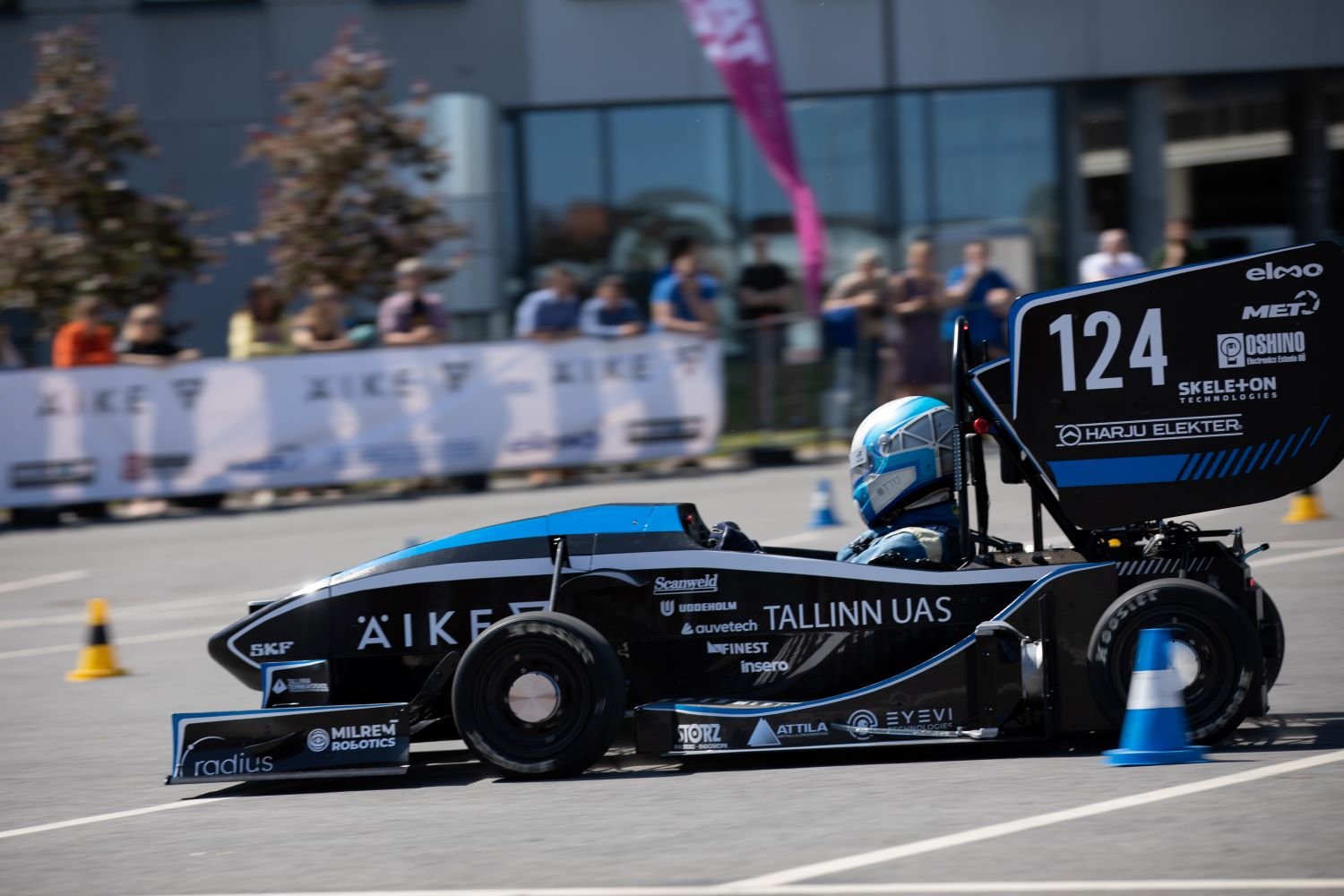 FEST2023.
Aleksander Einpalu, Mechanical Engineer


What did you do at FS Team Tallinn?
I was part of FS Team Tallinn for the whole duration of my bachelor studies, so I participated in building three Formula Student cars (FEST20, FEST21, FEST22).
In my first year, I worked on composites, designing components like rear wing mounts, internal structures, and the Drag Reduction System (DRS). In my second year, I joined the suspension team, concentrating on suspension arm design. My third year was dedicated to verifying a new suspension arm concept for my thesis.

What are some standout moments from your time with the team?
There were those long nights spent behind the machines, the absence of a personal life, and endless hours of sanding and laminating. However, it was also a lot of fun, with epic parties at European competitions, the soundtrack of the Estonian Dance Music Megamix, and the company of great people.

How has your Student Formula experience influenced your work at Skeleton?
All design decisions need to be based on data or theory, and it's even better if they are well-documented.
Jaan Intar, Product Development Engineer


What did you do at FS Team Tallinn?
I became a part of the FS Team Tallinn Driverless division in 2018, during my master's studies, as I was in need of a thesis topic. During my time there, I focused on developing the electric steering system. This system enabled autonomous electric steering of the front wheels while also preserving the human steering function for times when the driverless system was not in use.

What are some standout moments from your time with the team?
One that stands out is dedicating a significant amount of time to a needlessly complicated solution for the electric steering rack. I had to repeatedly redo the milling of the housing until it became evident that the required purchased components wouldn't arrive in time. The urgency to have a working solution for on-field system testing led to a change in approach. Eventually, we opted for an electric steering column, starting with a swift temporary prototype to facilitate team testing and then refining it into an optimized design that not only met our requirements but was also much simpler than the original solution.


How has the Student Formula experience influenced your work at Skeleton?
One of my most significant takeaways is the importance of independent thinking and not becoming overly fixated on how others have addressed a problem. My initial choice of solution for the electric steering system was influenced by a design idea that our leading competitor had used a year earlier. However, I realized I had missed the fundamental question: "What are the requirements, and what is the most efficient, straightforward, and cost-effective way to fulfill them?"



Taavi Pärtin, Production Equipment Engineer
What did you do at FS Team Tallinn?
I was involved in the development of three Formula Student cars:FEST13, which was a first electric Formula car, FEST14 and FEST15, which was the first 4-wheel drive electric Formula car with carbon fibre monocoque chassis.

In my first year, I was responsible for the steering system; in the second, I managed the high-voltage battery cooling system, and in my last year, I oversaw the carbon fiber monocoque chassis inserts.

What are some standout moments from your time with the team?

I enjoyed the opportunity to be involved in all stages of development, testing and competition. You develop a solution, build it, test it and, at the end, defend it in front of expert judges from famous Formula 1 teams.

I can clearly remember the night before we went to compete in Spain. I was soldering resistors onto the circuit boards for the battery management system. It was the first time I had ever soldered anything. Luckily, in the end it went well and the boards worked properly.

Last but not least, Student Formula competitions are awesome events and full of unexpected situations.
How has the Student Formula experience influenced your work at Skeleton?

Formula Student has influenced my work at Skeleton a lot. Formula Student has given me a lot of theoretical and practical knowledge that I can use in my daily work, for example how to design a product, how to manufacture it and how to validate it.It has also given me the ability to work effectively under high pressure and with limited resources - skills that are invaluable in my day-to-day work.