Karl Ahun, Senior Graphic Designer: "Skeleton has grown from a startup into an industry leader."
A sailing aficionado, Karl Ahun is Skeleton's senior graphic designer, responsible for the company's graphic identity and visual elements. He had previously worked at Skeleton from 2016 to 2019 and joined back recently, after a long trip across Europe travelling in his van with his fiancée and their two dogs.
Can you please tell us more about your background and previous experiences?
For the past 20 years, graphic design has been a part of my life. When I was in high school, I began creating my first works as a hobby and eventually found a summer job as a junior graphic designer, where I gained my first real customer experience.
My friend invited me to an internship at a marketing agency during my final year of university. As a result, I joined and stayed for five years. I believe it was the best thing that could have happened to a young designer because we had multinational clients (Microsoft and Logitech, for instance) and a small but highly competent team. I improved my skills in a wide range of creative fields, including branding, photography, web, and print design.
After that, I worked for Estonia's leading furniture company's in-house marketing team. It was a noticeable difference over my previous position because I had to concentrate on B2B marketing solutions rather than design only. I spent a lot of time handling and setting up trade exhibits in Sweden, Denmark, Germany, and Ukraine. Overall, I gained a comprehensive perspective on various marketing activities and learned a lot of important information.
After that, I joined Skeleton, and the rest, as they say, is history.
You have worked for Skeleton from 2016 to 2019, before coming back a few months ago. What motivated you to join back?
Honestly, I don't feel like I left Skeleton because I never got a job elsewhere.
My fiancée and I decided to go on a long vacation to travel and get some inspiration. As a result, we quit our jobs, sold our apartment, and relocated with our two dogs into our self-built van. We ended up visiting 16 countries before being forced to return home by Corona. We saw natural sights, different cultures, and met friendly people on our trip, which gave us a lot of energy and motivation for the future.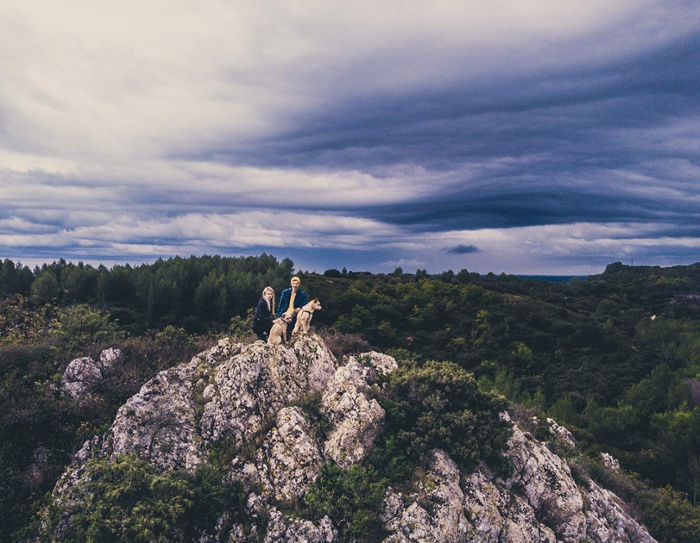 When we returned to Estonia, we realized another small dream of ours: owning a country house. The complex's renovation is our next big project. Skeleton, on the other hand, had heard about my return and contacted me shortly after, asking if I wanted to rejoin. My immediate response was yes.
It is easy to work for a company when your values align with those of the organization. I want the world to be a better place with clean energy, and Skeleton plays a significant role in the energy storage sector for a cleaner future.

What is your own philosophy when it comes to branding and why is it important for an innovative industrial company like Skeleton to have a powerful brand identity?
Branding and brand recognition are critical for any company, regardless of its size. Consistency, in my opinion, is the most challenging part for brands, like using the same style for different materials and the same tone of voice across multiple communication channels.
Skeleton's strong brand makes it easier for the company to attract great talent, find investors, and, of course, make sales. Skeleton has grown from a startup into an industry leader. We are no longer seen as an ultracapacitor manufacturer only; instead, we are now recognized in Europe as a cleantech innovator.


To what extent can a strong brand identity influence employees' attitudes and behaviors as well as generate business opportunities?
A strong brand, such as Skeleton, serves as a door opener in various parts of the company. When it comes to employer branding, we have a clear message. We're looking for people who want to make a difference by working toward a zero-emission future. As a result, people like myself are motivated to work for a brand with a greater purpose.

The same concepts apply to sales and creating new opportunities. Companies are looking for innovative solutions, and Skeleton has established itself as a key player in the energy storage sector. Nobody wants to miss out on the world's transition to a greener future. Skeleton is driving the train.


What are the main skills needed to work in brand design?
Experience is, in my opinion, the most important skill. Also, the ability to see the big picture to maintain consistency and develop the brand over time. And this isn't a one-man show; it's the result of teamwork at multiple levels of the organization. As a designer, you should have technical knowledge, understand design principles, and be aware of current trends. To stay ahead of the game, it is also necessary to cultivate your creativity through other activities.


Besides design, what are your main areas of interest and what do you like to do outside work?
My primary interests are currently focused on our new home. My fiancée and I started working on our country house. It's thrilling to see our two rescue dogs running around in their spacious backyard. The simplest things often make us the happiest.
Sailing is another great hobby that I returned to after moving back to Estonia. My sailing team and I are preparing for the upcoming ORC World Championships, which will be held for the first time in Tallinn.