Rene Ämarik is on a mission to lower our ICT carbon footprint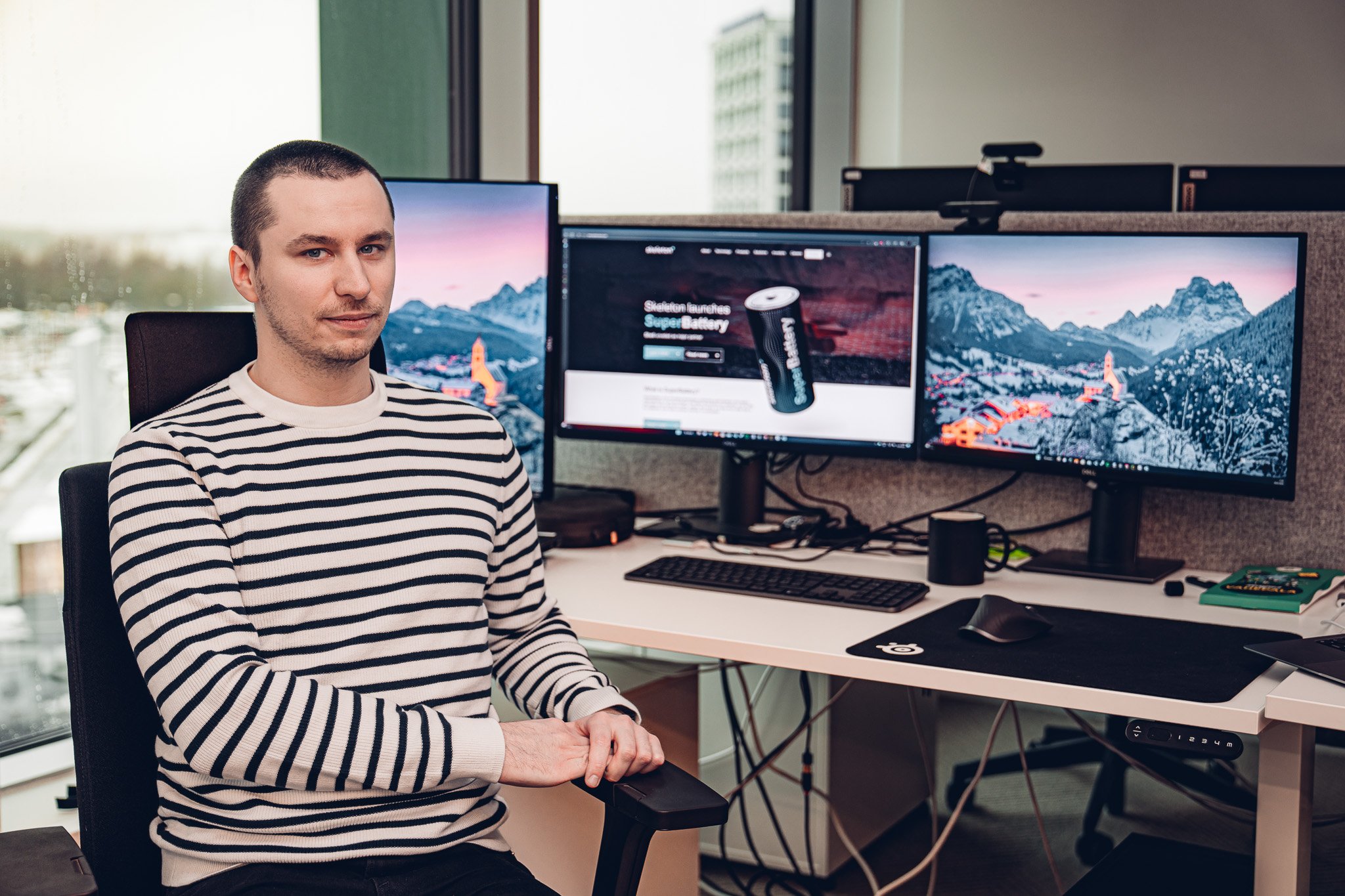 Skeleton's Senior IT Specialist Rene Ämarik is a modest man with a heartfelt mission. In March 2022 Rene Ämarik initiated a passion project that not only decreases Skeleton's ICT carbon footprint, but also drives social change in underprivileged regions in Estonia, whilst providing financial benefits for the company.
The production of one computer and monitor uses an average of 1.5 tons of water, 227 kg of fossil fuels, and 23 kg of chemicals. Currently, the rough number of CO2 footprint of the ICT devices in Skeleton is ca. 500 000kg/CO2e. Through controlled life cycles that could be reduced by 50%.


Why does Skeleton care about our ICT devices' CO2 footprint?
Skeleton Technologies is based on the idea of saving energy and making the world a greener place. We don't want to limit that aim to just our products, but also put sustainability in the forefront of how we produce our products and what we use to produce them.
ICT devices have a very big carbon footprint and we want to do as much as possible to lessen the environmental impact. For example, the average estimated carbon footprint of a laptop is around 422.5 kg, including the carbon emissions during the production, transportation and first 4 years of use.

They produce about 2% of the world's CO2 emissions per year. As we need to use computers to do our work nowadays, it is critical to make sure that we use the full potential of them and not waste any resources.

How to make more sustainable choices when it comes to ICT devices?
First and foremost, procure quality ICT devices to make sure they last long and don't end up as e-waste already in a few years. Secondly, teach your employees how to take care of their devices as that can also have a huge impact on their lifetime.

At Skeleton, we procure only business class laptops with an extended 3-year warranty. The computers are durable, their battery life is good and they have enough performance, so our employees do not have to wait for a slow computer to load their things.

The lifetime for our devices is 3 years which for business use is quite long. Companies are the first adopters of new technologies and will always need more performance than a regular home user.

We also use energy saving configurations by making sure the computers and monitors are not always on – they turn to sleep mode when no one is using them. Additionally, we have virtual servers for our technology to decrease the need for hardware and we use mainly cloud platforms for system management.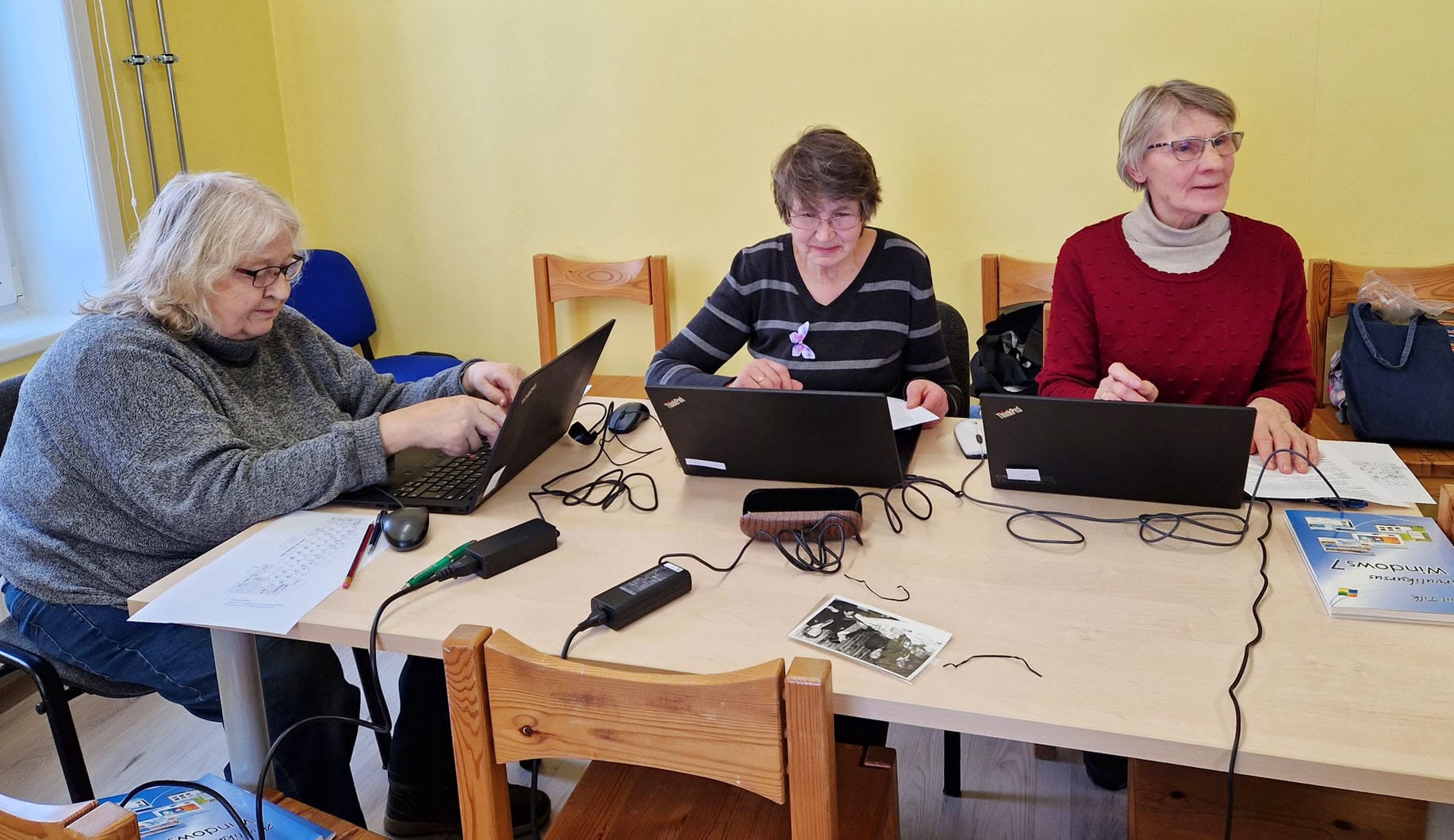 Computer course at the Rakke Educational Society. Photo: GreenDice

Why is the lifespan of business-use devices lifespan significant?
When a computer is no longer suitable for business use then it doesn't mean that the device has reached its end of life. Nowadays, there are non-profit organizations who take those old laptops and give them to stakeholders who can still benefit from them. In worst case scenario, they'll recycle the precious metals and everything else that can be taken from the device.
At Skeleton, we give our older laptops or monitors that we have no longer use for to be repurposed. For example, our laptops will end up in schools or in the hands of private users who are able to get a good quality laptop for a very low monthly fee.
Through such an initiative, we help decrease the production demand. Firstly, we make sure our devices are used to their full extent. Secondly, thanks to our donation, people no longer need to buy a cheaper alternative that most likely will end up in e-waste in a year or two.


What is the collaboration with GreenDice about?
Through the collaboration with GreenDice, we extend our devices' lifetime and we can also make sure that people who need a quality device can get it for a fraction of the initial price. Furthermore, GreenDice remains responsible for the operation of the computers throughout their useful life.
Another cool thing about GreenDice is that we know what happens to our donations and can follow the device's "second life" through a web application. It really is gratifying to see that our laptops and monitors are now serving pupils at Tsirguliina School, adult learners at Rakke Educational Society and elsewhere.

This collaboration also provides economic incentive. As GreenDice handles all logistics, our e-waste disposal related costs have decreased. Additionally, they offers partners discounted prices while purchasing new equipment through their partner firm Nb.ee. After we have used the devices GreenDice will then buy them back from us. In that sense, they are not a classical NGO doing charity work, but a social business that covers an uncommonly large part of a ICT product's lifecyle.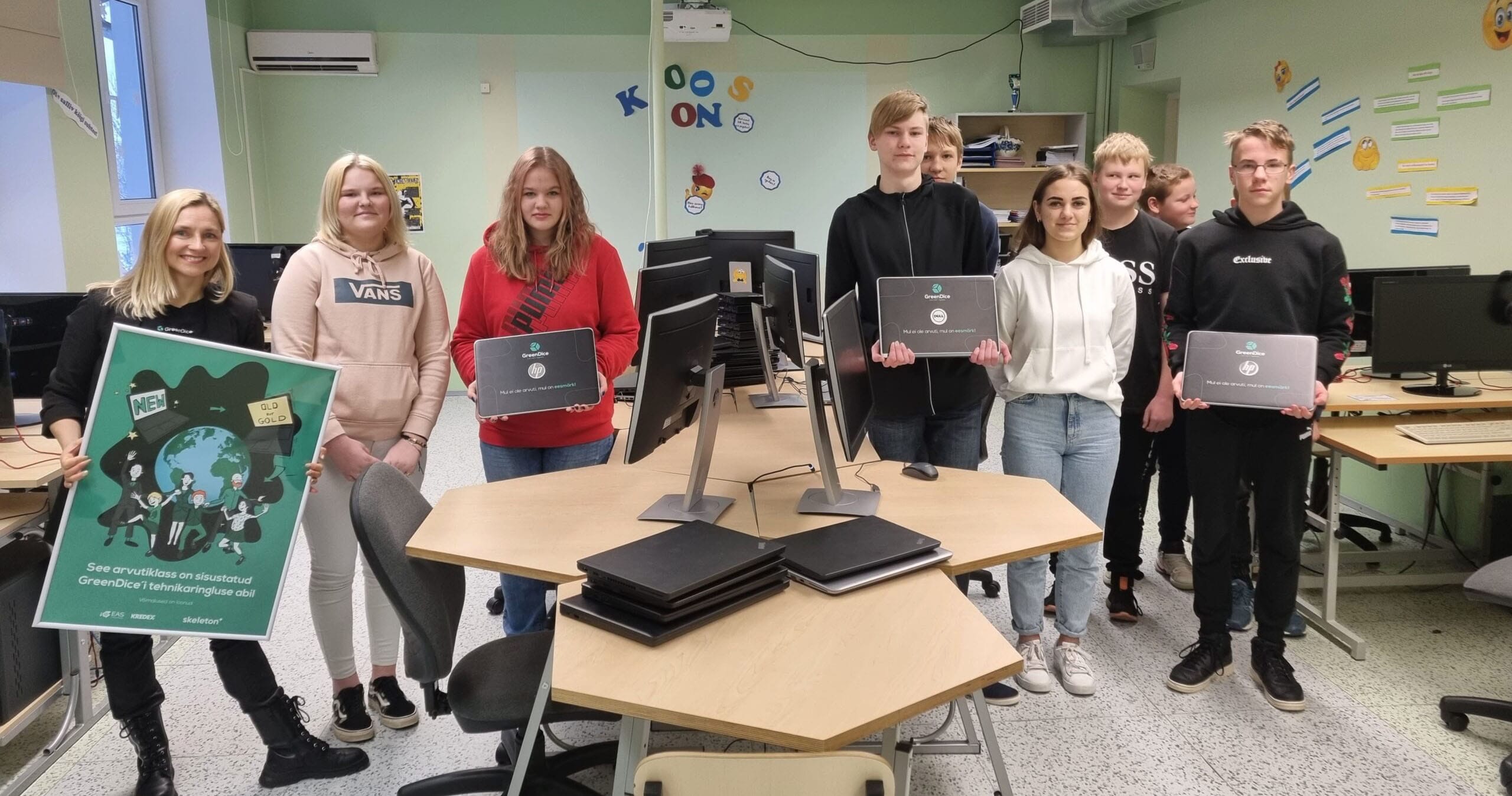 Tsirguliina School. Photo: GreenDice


What is GreenDice?
Reinventing the idea of a computer-related tech purchase
The Estonian company GreenDice AS has created the first ever technology cycle that measures the CO2 footprint of a company's IT equipment and helps reduce it.
Conscious consumption of IT technology allows quality equipment to be valued for 10+ years, while creating opportunities inside the computer world for those who do not have it today.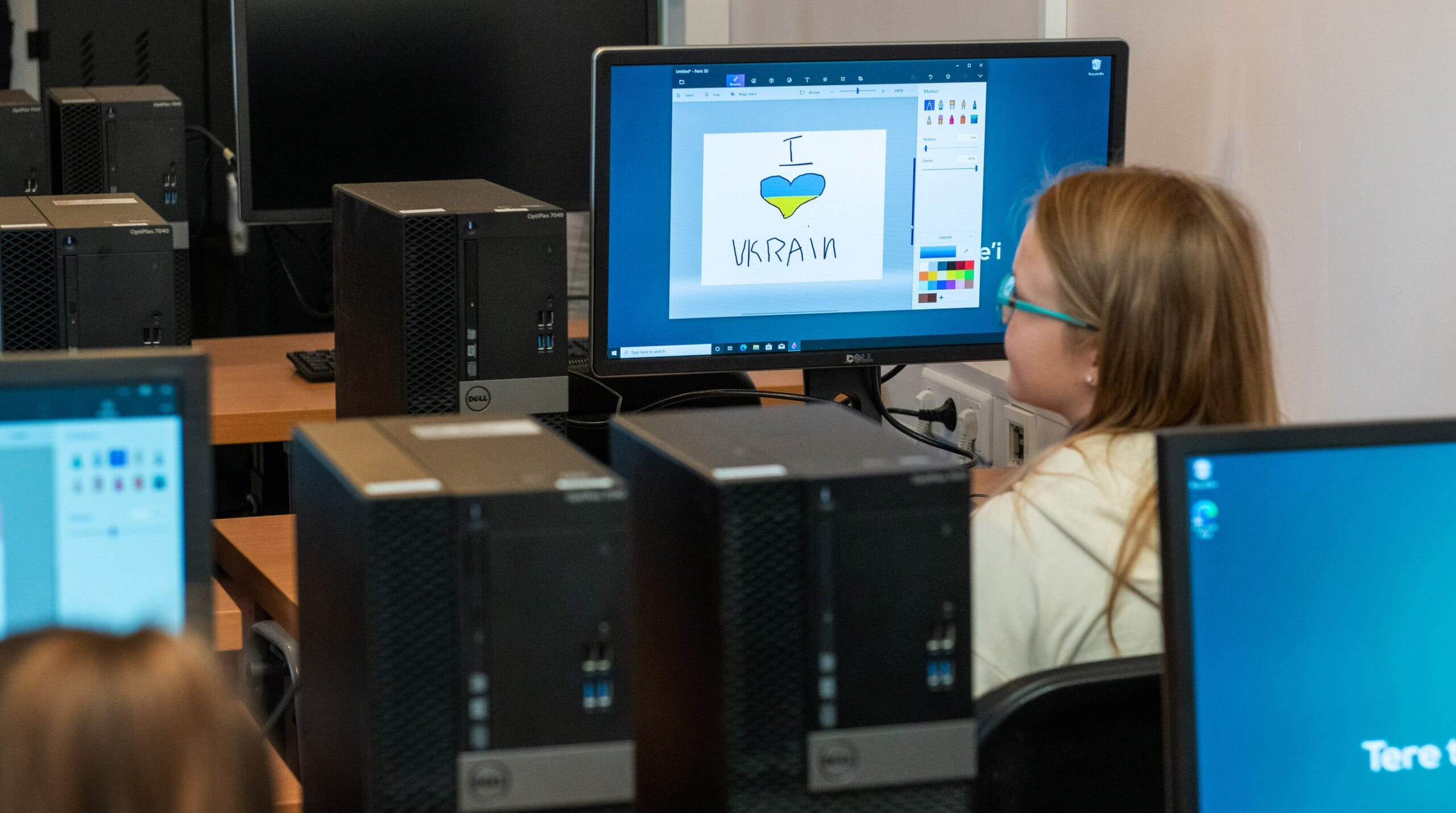 More than 200 companies have already joined GreenDice to reduce their IT footprint and make a social contribution to making computers more accessible.

What does GreenDice offer for us?
• IT technology CO2 footprint reporting
• Reduction of the CO2 footprint
• Social contribution
• Accurate statistics on the recycling of technical equipment materials
• Recommendation and special pricing for long-term equipment through manufacturers

GreenDice allows us to create opportunities for underprivileged groups by keeping our tech in circulation and, if desired, creating educational content to support those entering the computing world. They monitor the movement of each device in a complete technical circle.
GreenDice has developed a system to accurately calculate the footprint of each purchased device, and based on this, prepare accurate reports on the CO2 footprint of all IT equipment.
GreenDice maps also unpurchased devices when something is passed on to the next person in the technical circle. One device not purchased means one new device not produced, which also reduces the overall CO2 footprint.