[DRESDEN, GERMANY] – May 30, 2017: Skeleton Technologies, Europe's leading ultracapacitor manufacturer, today announced the launch of SkelGrid, a first in-kind ultracapacitor-based turn-key energy storage system for ensuring reliable power quality in manufacturing plants, data centres, and covering starting and bridging power for diesel generators. SkelGrid is based on Skeleton Technologies' market-leading curved graphene ultracapacitor technology, providing the highest power and energy density on the market in the industry standard electrical cabinet or container format.
Register for our free SkelGrid webinar on 13th of June
---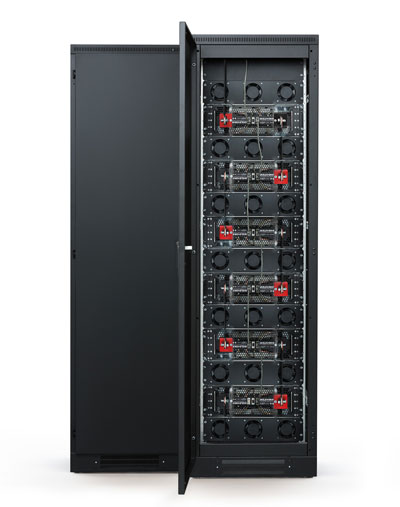 "In the semiconductor and electronics industries power quality is of utmost importance. A power outage lasting for under a second can damage all the products on the production line, and the losses are compounded by the unavoidable downtime of clearing the backlog and setting everything up again. On average, our customers face one such event per year. Thanks to our patented Curved Graphene, the SkelGrid product family has the highest reliability and twice the power of competing system on the market to ensure no manufacturing losses or downtime even in the event of short-term power outages. We see from customer experience that SkelGrid can pay itself off by eliminating the issues caused by one single short power outage.",
said Taavi Madiberk, CEO of Skeleton Technologies, and continues:
"In diesel generators, SkelGrid is ideally suited for starting and to bridging power until the gensets are online and synchronized with the grid. Furthermore SkelGrid products enable switching gensets from stand-by to offline mode, leading to fuel savings and decreased emissions. In diesel gen-set applications, we don´t only see significant reduction in CO2 emissions, but also a payback times in under 18-24 months.
The applications for the SkelGrid product family are numerous because of its modularity, and the high power and long lifetime of the SkelCap ultracapacitors that are the building block for all our products. We see the launch of SkelGrid as a significant step forward for industrial power quality and backup power applications".
The SkelGrid product family is based on SkelRack modules, which can be installed in industry standard 19", 600mm deep cabinets, and in 20 or 40 ft. containers to provide short-term power at the megawatt level. The SkelGrid family has maximum power ratings ranging from 520 kW up to 1500 kW, and as a modular product, its components can be configured according to customers' needs.
About Skeleton Technologies
Skeleton Technologies is the global leader in graphene-based ultracapacitors and energy-storage systems. We deliver high power, high energy, reliable and long-life storage solutions across industry. Through the use of patented 'curved graphene', we have achieved global breakthroughs in ultracapacitor performance.
Our ultracapacitors deliver twice the energy density and 4 times the power density offered by other manufacturers. Our current customer base ranges from leading Tier One automotive firms and industrial equipment OEMs to truck fleet operators and aerospace prime contractors.
For more information on SkelGrid, contact Michael Liedtke, Senior Vice President of Business Development
Michael.Liedtke@skeletontech.com
+372 5300 2870
CONTACTS:
Sarah Wilson
Harvard Public Relations for Skeleton Technologies
Sarah.Wilson@harvard.co,uk
020 7861 3933
---
Sign up for our free SkelGrid webinar on the 13th of June at 5pm EET. Places are limited - register now!