Recently, Skeleton Technologies has started to supply ultracapacitor modules to Attabotics, a Canadian company deploying a new all-in-one automated storage, retrieval, order fulfillment, and sortation system to some of the largest retail companies in North America. In this regard, the two companies have cooperated on the design of a new ultracapacitor powerpack to take full advantage of the market-leading power density of our products in the latest generation of Attabotics' robots, opening new perspectives for the widespreading of our ultracapacitors for industrial use.
Attabotics is a robotics supply chain company headquartered in Calgary, Alberta. It has been launched in 2016 and offers a solution for fulfillment centers that replaces the traditional row-and-aisle configuration with a patented storage structure inspired by ant colonies, whose industriousness and efficiency are well-known. Indeed, ants access their storage vertically, whereas people, by contrast, are more two-dimensional. Using this new configuration, Attabotics' system reduces warehouse space by 85% and requires just 20% of the workforce that traditional fulfillment centers need.
Attabotics' founder and CEO Scott Gravelle describes:
"We have completely reimagined order fulfillment to help retailers meet consumers' expectations of modern commerce: fast delivery, vast product choice, and seamless returns. By applying the three-dimensional structure of ant colonies to warehousing and fulfillment, we provide a system that's easily scalable, faster, and more flexible for retailers. A big part of that is Skeleton's development work on the ultracapacitor pack, providing our system the power and reliability for constant operation."
The rapid growth of e-commerce has changed consumer behavior and expectations, but the supply chain has not kept up to date with the changing landscape. Attabotics' 3D robotic shuttle system introduces two significant upgrades, decreasing the cost and storage space required:
By utilizing vertical storage space much more efficiently than conventional storage systems, Attabotics has reached industry-leading storage density.
The ultracapacitor-powered robots travel independently to any bin within the warehouse, removing the need for cardboard boxes, traditionally needed to protect goods on conveyor belts.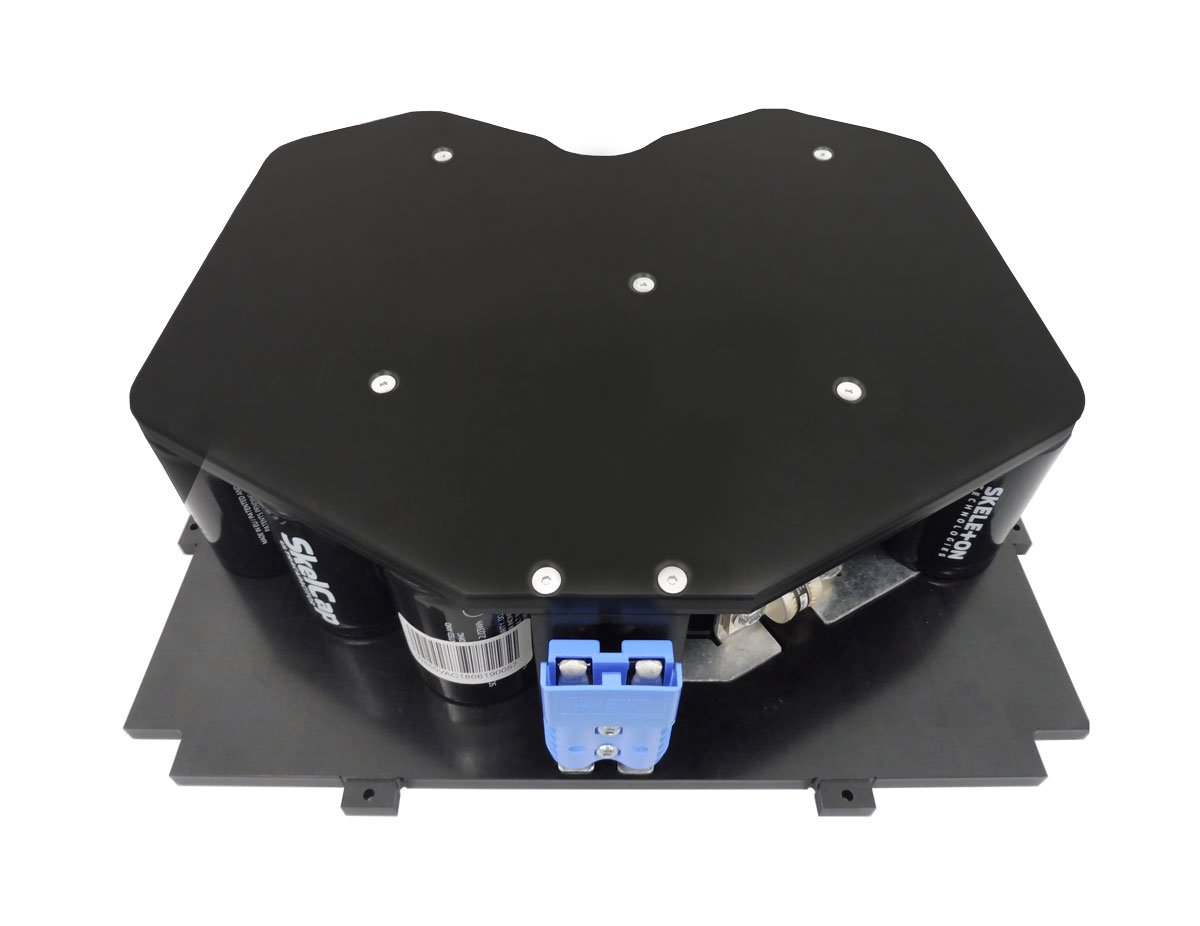 Skeleton Technologies and Attabotics cooperated on the design of a new ultracapacitor powerpack to take full advantage of the market-leading power density of Skeleton's ultracapacitors in the latest generation of Attabotics' robots. Furthermore, the two companies have signed a strategic supply agreement for the next 3 years.
Taavi Madiberk, CEO of Skeleton Technologies, explains the role of ultracapacitors in Attabotics' robots:
"The Attabotics system is an ideal application for our ultracapacitors due to the heavy cycling and long lifetime requirements. The system has an industry-leading throughput as well as the highest payloads on the market, and this is due to the power density advantage Skeleton's ultracapacitors offer. The smaller the ultracapacitor energy storage pack is, the smaller Attabotics can make their robots, further increasing space savings and efficiency in warehouse operations.
The ultracapacitors charge at predetermined spots along their route within the storage racks and do not require dedicated charging space. With a lifetime of more than a million charge-discharge cycles, the ultracapacitor packs provide 24/7 operation for more than 10 years.
The Attabotics team has designed an ingenious system that can propel the company to be a dominant player in logistics globally, and Skeleton is proud to empower a system that can make an enormous difference in way goods are stored and transported.