Today, our CEO Taavi Madiberk was invited to speak at EU Energy Day in Abu Dhabi. The 9th EU Energy Day is part of the EU side events at the World Future Energy Summit and features the European Green Deal and the road to becoming the world's first climate-neutral continent. It is a meeting place for European research institutions and innovative cleantech companies to share their breakthrough technologies, clean energy solutions, and its upcoming initiatives. The goal is to share knowledge and expertise with international partners and give networking opportunities to businesses, innovators and investors.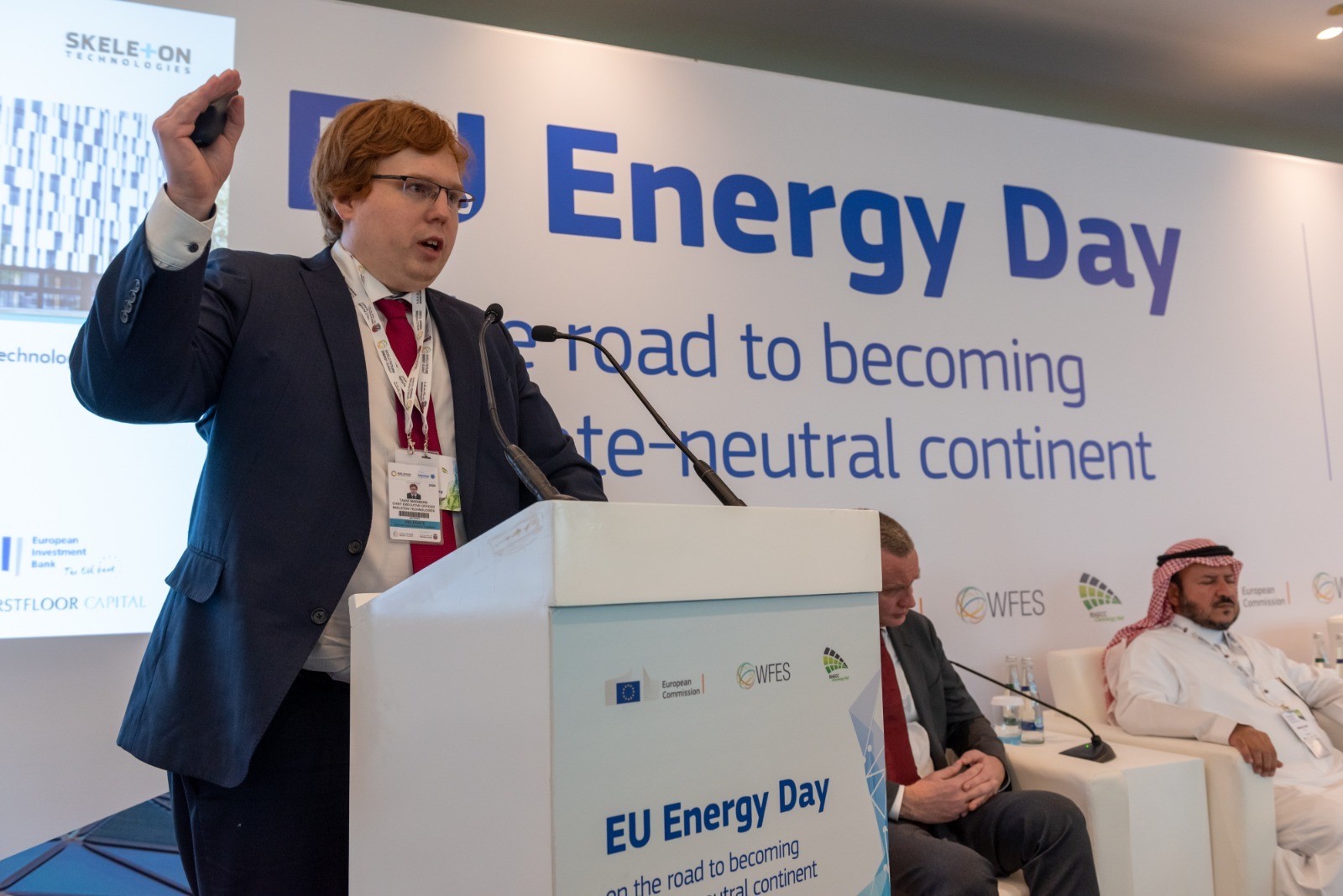 Taavi was speaking at the panel discussion on "Industry for a climate-neutral economy", alongside Paula Abreu Marques, Head of Renewables and CCS Policy at DG ENER (European Commission), H.E. Fatima Al-Foora Al Shamsi from the Ministry of Energy of the United Arab Emirates, Dolf Gielen, Director of IRENA Innovation and Technology Centre, Dr. Abdulaziz Al-Jodai, Director, Corporate Programs at SABIC, a global leader in chemicals headquartered in Saudi Arabia, and Dr. Mohamed Shahtout, Emirates Steel. The session was aiming to discuss how an energy transition can support new low-carbon process in the industry sector, and how new innovations in industrial processes can help create a carbon-neutral economy.
Taavi introduced Skeleton Technologies' actions aimed at reducing CO2 emissions from heavy-duty vehicles and at increasing the share of renewables in the energy mix.
He also brought the business perspective, highlighting that the EU Green Deal is the biggest opportunity for European companies since the Internet revolution and that long-term environmental sustainability and economic sustainability should be combined. Europe missed out the Internet wave but can be the global leader in technologies to fight climate change.
He expressed the need for unified market and regulations for energy storage as a key to reach carbon neutrality by 2050 and called for a more agile financing landscape in Europe as well as more support for the demand for electric vehicles, following the recent news that China won't cut subsidies for new energy vehicles in 2020.