What would the new European regulation on batteries mean for ultracapacitors?
The European Union has recently released the proposed text of a new regulation on batteries, aiming to support the European Green Deal, fostering electrification of the energy and mobility sectors to reduce greenhouse gas (GHG) emissions while making batteries less hazardous to the environment.
Ultracapacitors differ significantly from batteries in their internal chemistry and therefore would not fall under this new regulation. Nonetheless, the regulation contains several aspects regarding batteries which Skeleton Technologies considers to be a positive sign for both the planet and the ultracapacitor market as it supports batteries being lighter, more environmentally friendly, and have a longer life span. Ultracapacitors, when used together with batteries as an energy storage system (ESS), can support all three aspects.
Weight
The regulation introduces a 5kg weight limit on portable batteries as opposed to "industrial" batteries, opening new fields of use for Ultracapacitors, as they do not fall under this regulation. Thus, a 5.5kg battery would be considered "industrial," while a 4.5kg battery with a 2kg ultracapacitor module would be considered "portable."
Since industrial batteries are much more heavily regulated than portable batteries, including for new performance and durability requirements, customers would benefit from a battery-ultracapacitor-hybrid beyond the usual benefits of an ESS, at least from a weight perspective.
Benefits for the customer include avoiding the obligation to keep the newly established battery 'passport' for industrial batteries, thereby saving not just data collection and reporting overhead but also avoiding further regulatory interventions such as having to prove second-life for their batteries, mandatory carbon footprint declarations, mandatory recycling declarations and mandatory supply chain due diligence. Especially avoiding recycling requirements could be a substantial benefit to customers.
Lead and hazardous materials
Lead-acid batteries will be heavily regulated, with a forced recycling rate of up to 95%. ESS with ultracapacitors offer an alternative to lead-acid batteries, making them an interesting proposition for all places where they are still employed, mostly in the automotive sector.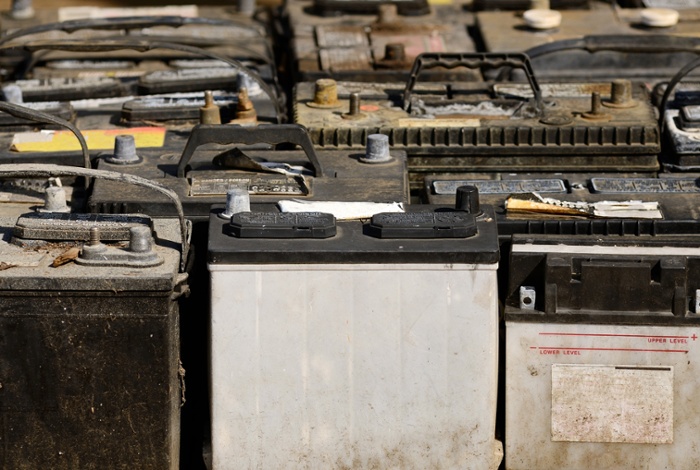 Old lead-acid batteries
Other hazardous materials such as Kobalt, Nickel, Lithium and Copper are similarly regulated, with quotas of 70% for Lithium and 95% for all others. ESS with Ultracapacitors will decrease the need for these materials, lowering the amounts required for recycling.
Lifespan
The proposal introduces progressive requirements to minimize the carbon footprint over the life cycle of batteries. Reporting the carbon footprint of a battery over its lifespan will become mandatory. Ultracapacitors increase the life span of batteries, significantly lowering the carbon footprint and thereby and requirements the EU might put on highly GHG-emitting batteries. Specifically, ultracapacitors cover power peaks, thereby increasing the lifespan of lithium-ion batteries by up to 100%, and hybrid ESS with Ultracapacitors in vehicles can increase the lifespan of lead-acid batteries by up to 100%.
Overall, we can fully say the proposed regulation shows how business sense and environmental sense can go hand in hand for ultracapacitors.