Skeleton Technologies, the European market leader for ultracapacitors and energy storage systems for transportation, grid, and industrial applications, was named a Global Cleantech 100 company by Cleantech Group.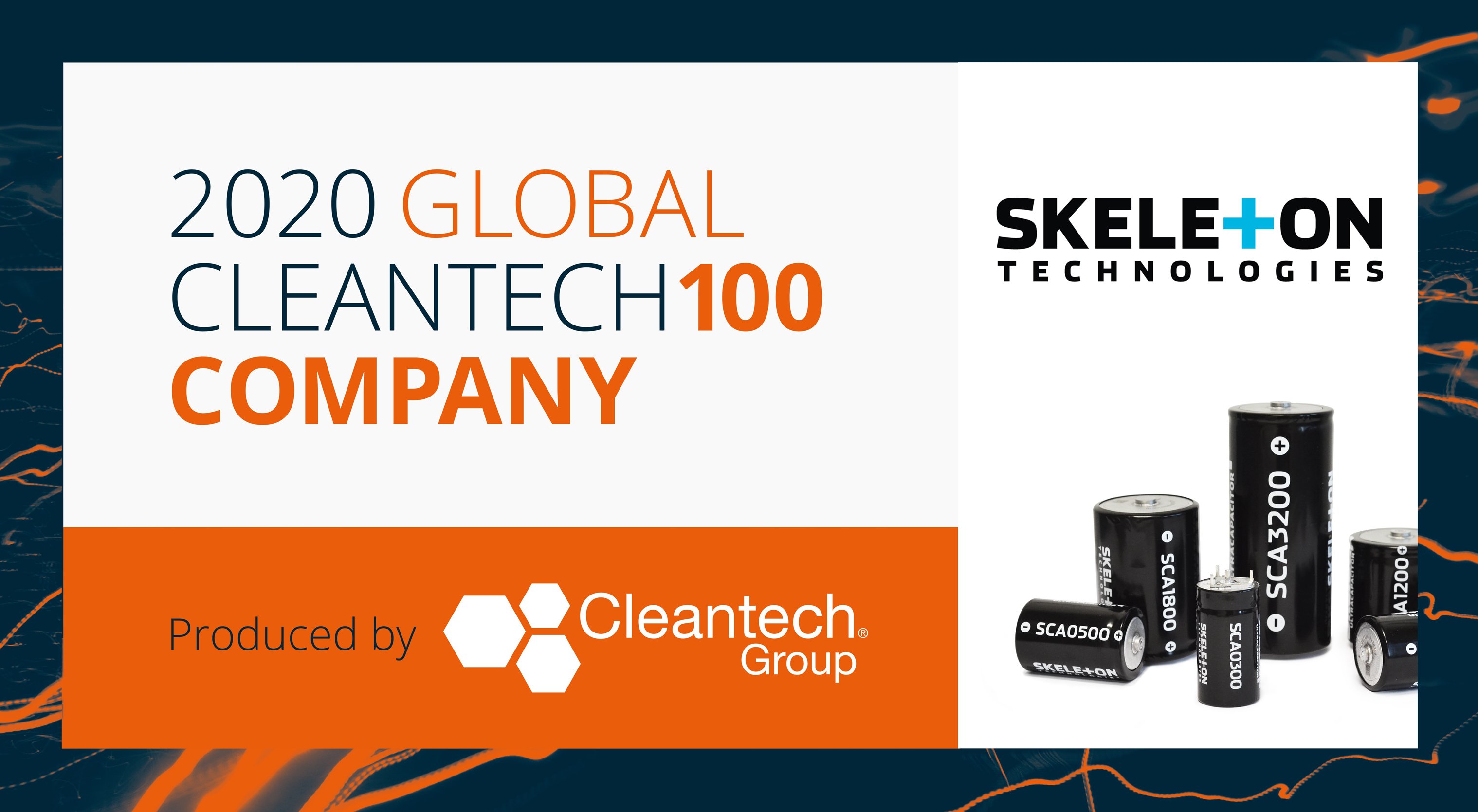 The 2020 Global Cleantech 100 is the 11th edition of the respected annual guide to the leading companies and themes in sustainable innovation. It features the private, independent and for-profit companies best positioned to contribute to a more digitized, de-carbonized and resource-efficient industrial future.
Skeleton Technologies' inclusion in 2020 Global Cleantech 100 list rewards our actions aimed at helping companies to save energy and reduce CO2 emissions as well as the industrial excellence of our products. As a mission driven company, we are committed to solving global challenges by harnessing the power of clean and environmentally sustainable technologies.
Skeleton Technologies' CEO Taavi Madiberk commented:
"It is a great honor for us to be included in Global Cleantech 100 list again. Out of these 100 companies, I notice only 28 are based in Europe (20 in the EU). Indeed, this highlights Skeleton's position as one of Europe's leaders in technologies fighting climate change but I would like to see more European companies reaching this list in the future. Hopefully, the EU Green Deal will bring huge business opportunities and support the emergence of European cleantech champions leading the global transition to a carbon-neutral economy."
The list combines Cleantech Group's research data with qualitative judgements from nominations and insight from a global 80-member expert panel of leading investors and executives from corporations and industrials active in technology and innovation scouting, such as E.ON, Engie, Mitsubishi Corporation, Michelin Group, LG Corp, BP Ventures and Veolia to name a few. From pioneers and veterans to new entrants, the expert panel broadly represents the global cleantech community and results in a list with a powerful base of respect and support from many important players within the cleantech innovation ecosystem.
"It feels right that our first list of the future-defining 2020s, should see a continued strengthening in the representation of truly impactful and necessary innovations to transform our diets, to enable a more renewable-heavy energy system, and to capture and utilize the vast levels of CO2 we have been freely emitting for decades",
said Richard Youngman, CEO, Cleantech Group, and continued:
"Also included in our 2020 list are some big and critical shots at solving global problems – from proving out fusion and next-gen batteries to zero carbon aviation."
Several companies which have been featured in the Global Cleantech 100 list in the past have recently became unicorns. Notable examples include Impossible Foods, Blablacar and Uber.
For detailed information on Skeleton Technologies' outlook as an innovator, visit Cleantech Group's market intelligence platform i3 and search for our name.