How Maja Stuwadoors lowered its fuel consumption by 25% thanks to Skeleton's supercapacitors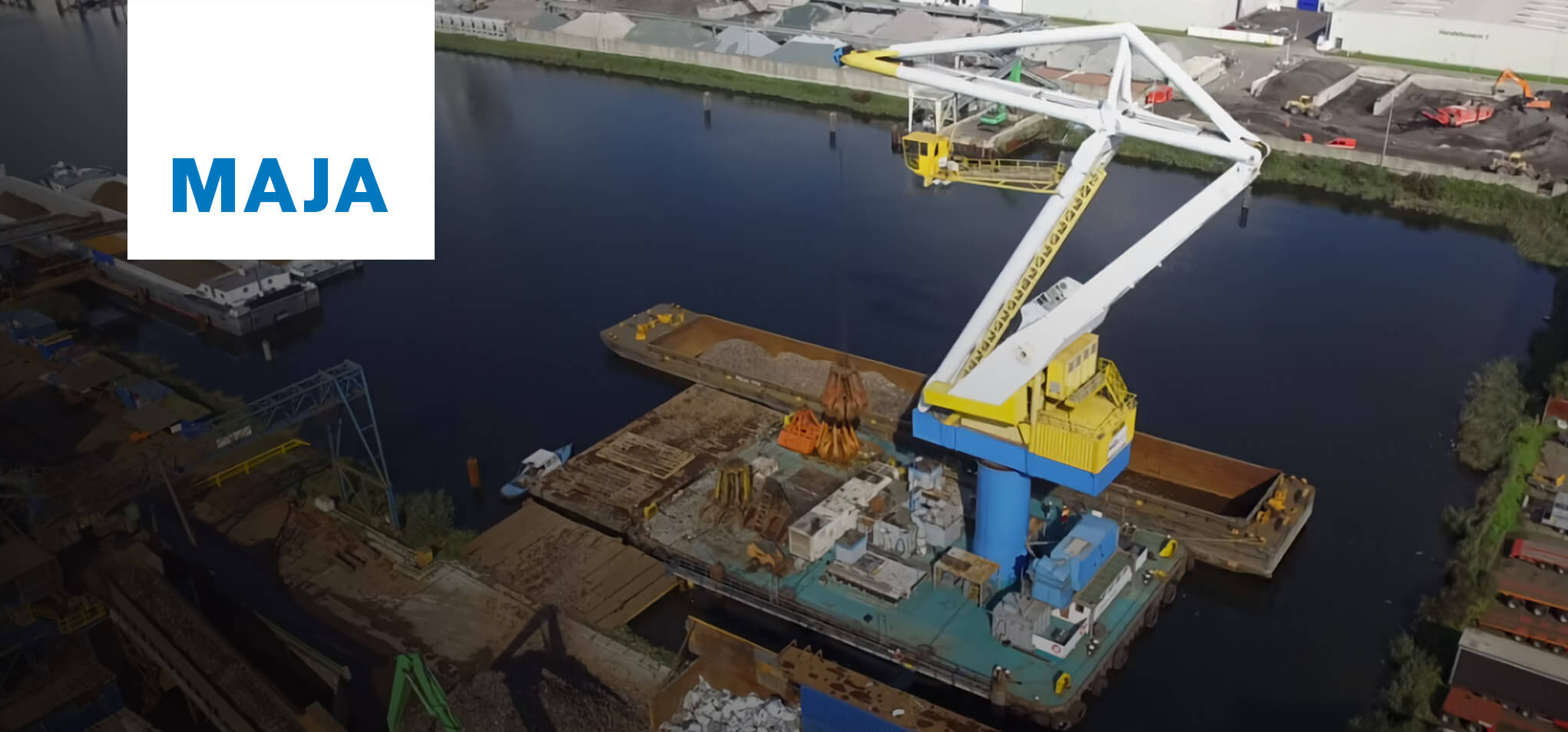 Can Skeleton's supercapacitors help the port crane industry lower its carbon emissions and improve its energy efficiency? Our partner, Amsterdam-based company Maja Stuwadoors, is proving that it is the case. Maja Stuwadoors was founded in 1972, and provides stevedoring services, such as storage, unloading/loading of vessels, transshipment of bulk goods and general cargo. The company also provides all logistics services for bulk goods, from the source right through to the end user.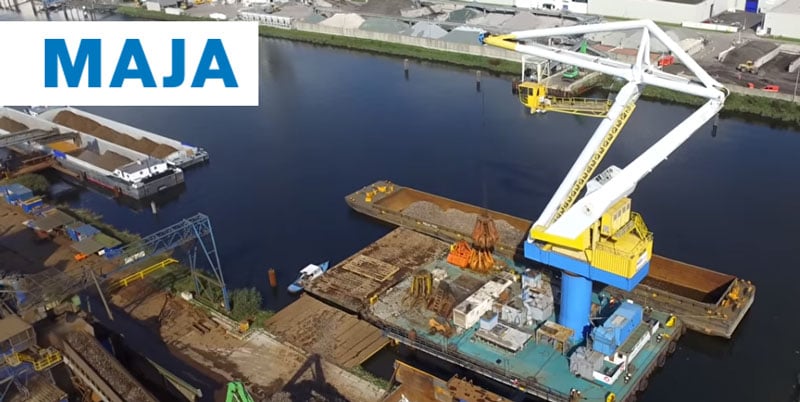 "For loading and unloading materials, we provide the customer with a flexible solution by making discharge possible with floating cranes. Customers don't need to engage or invest in expensive unloading and loading but can use it as a service. Maja owns cranes from 25 to 15 MT bulk capacity, providing an unloading loading service with speed up to 300 to 1000 MT/hour", Marco Holleman, Director of Maja Stuwadoors, describes.
Maja Stuwadoors has always prioritized innovation in its services. The company developed a flywheel for their most used cranes to save energy, for instance.
"Our interest in options for energy storage and for carbon neutrality led us to choose Skeleton's supercapacitors", Marco Holleman says. "Supercapacitors help us to significantly reduce our carbon footprint, saving energy and improving our environmental impact."
Maja Stuwadoors has been retrofitting our SkelMod 102V module in their port cranes, and the results were clear:
"The outcome of using Skeleton's supercapacitors has been absolutely positive. To power the floating cranes, diesel engines are needed for electric power to drive the crane efficiently. We used to need two diesel engines, but thanks to Skeleton's supercapacitors, we were able to use one less 800 kW diesel engine. It has diminished our fuel consumption by 25% and will contribute to savings on maintenance", Marco Holleman explains.
Energy efficiency and lowering carbon intensity are becoming a key priority in the port industry. It is now a pressing issue as 25% of global CO2 emissions currently come from the transport sector, and 30%-40% of this total is produced by cargo transport. Emissions will need to fall by 95% by 2050 to ensure that the marine transport sector adheres to the Paris Climate Agreement. Therefore, strong efforts are required.
Many key global ports operate in or close to highly populated urban centres, with ports in such locations coming under increasing pressure to improve their overall environmental performance.
Around the world, most ports still use only diesel-powered cranes. As emissions controls continue to become ever more stringent, port operators must design and use equipment and technology to reduce energy consumption, enhance sustainability and minimize the environmental impact of port and terminal operations. Electricity reuse is a key element in any strategy to save energy and reduce emissions and this is where Skeleton's supercapacitors come into play.
Ports and terminals now require modern equipment technologies and solutions to maximize energy and environment efficiencies when operating RTG (rubber tyred gantry crane) and STS (ship-to-shore) port cranes.
For example, operating STS cranes can trigger high peak loads on the grid as well as creating voltage and frequency fluctuations, increasing risks of blackout. This is why Skeleton offers a crane peak shaving solution for STS port cranes. With our SkelGrid supercapacitor solution, you can reduce peak load demand by up to 40% on your grid connection point, while mitigating voltage and frequency fluctuations. Cranes can therefore be operated without interruption and without the need for oversized batteries.
The constant up and down movement of most cranes, whether RTG cranes, STS cranes, and grabber cranes, offers the opportunity for energy savings. Skeleton has therefore developed a Kinetic Energy Recovery System for RTG port cranes. KERS works by capturing and re-distributing energy as freight is lowered and supplying energy as freighted is lifted. Our system can reduce greenhouse gas emissions by up to 30%.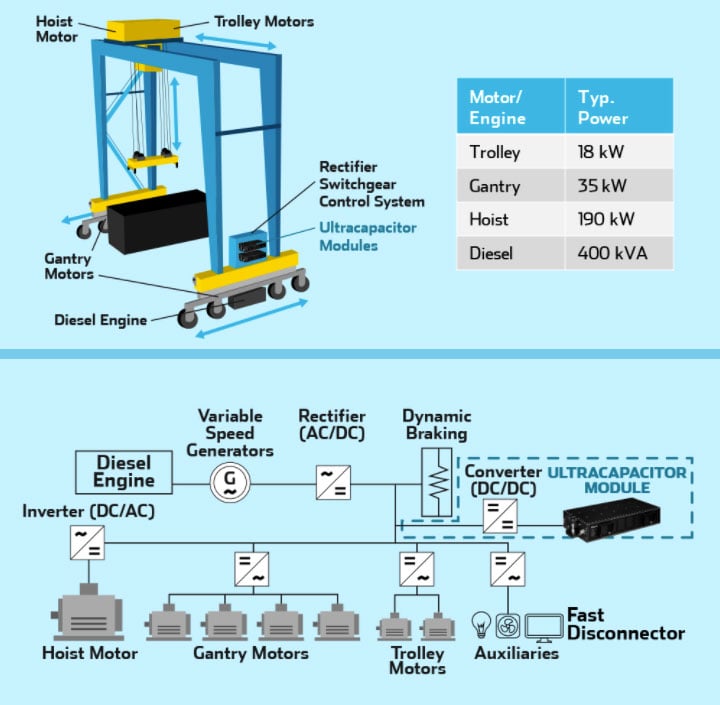 As we saw with Maja Stuwadoors, our supercapacitor solutions can also be retrofitted onto existing cranes. Our 102V module is based on the patented SkelCap ultracapacitor cells that provide the highest power density and energy density on the market.
General applications are for example peak power supply, voltage stabilization, load leveling, and frequency regulation, but the 102V module's strength is its versatility.
In the road towards carbon neutrality, every sector, every industry will need to contribute and decrease its carbon emissions while increasing energy efficiency. Port operators and port cranes manufacturers are examples of companies that can get closer to achieving climate goals thanks to supercapacitors. Across industries, Skeleton is proving to be the critical enabler of energy efficiency.